Tue, 28 June 2022 at 5:34 pm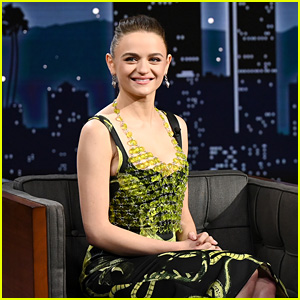 Joey King is opening up about the unprofessional thing she did during her final day of filming The Kissing Booth movies.
The 22-year-old actress, who is currently promoting her Hulu movie The Princess, chatted with guest host Chelsea Handler during an interview on Jimmy Kimmel Live on Monday (June 27) in Hollywood.
Click inside to find out what she revealed…
Chelsea asked Joey about the type of partying she enjoys, including if she likes edibles.
"I'm not a party girl, but I love me an edible," Joey said. She then revealed a story that she "never wanted to see the light of day," but decided to tell anyways.
"On my last day of filming Kissing Booth 2 and 3, I took an edible while we were filming. It was very unprofessional. I had seven more set-ups left. I still had more shots to do. And my friend Taylor [Zakhar Perez] who played Marco, he wasn't working and he took one too, and I got like so violently high," Joey said. "You know when you're really high, all you know how to say is 'I'm so high?' That's where I was at. And then I was supposed to hang out with other people, but then I ended up hanging out in my hotel room eating Shortbread Walker cookies and going to bed. I was the most well-rested out of everyone! Everyone was hungover, but I slept great!"
Joey then revealed which scene it was!
"If you're a fan of The Kissing Booth, you'll know what scene. I took it during the scene where me and my best friend Lee are on the boardwalk having a heart-to-heart about why I lied to him about college," she said. "I was just so effing high."
Learn all about the exciting new movie Joey is going to film this summer!
FYI: Joey is wearing a milkwhite snake dress, Naked Wolfe shoes, a Cathy Waterman crown ring, a Le Vian sparkly ring, and Emanuele Bicocchi snake earrings.
Like Just Jared Jr. on FB