Fri, 08 July 2022 at 8:14 pm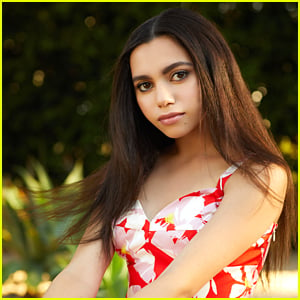 Savannah Nicole Ruiz is starring in the new family comedy Gordita Chronicles on HBO Max!
The young actress can be seen as Emilia, Cucu's older sister who she is always at odds with.
Here's a series synopsis: The year is 1985 and Cucu "Gordita" Castelli (Olivia Goncalves) has just said goodbye to all of her friends and family in Santo Domingo and moved to Miami with her marketing executive father Víctor (Juan Javier Cardenas), bold and vivacious mother Adela (Diana Maria Riva), and status-obsessed older sister Emilia (Ruiz). While life in America is far from what they imagined, the Castellis are determined to take charge of their strange new world.
The series even counts Zoe Saldana and Eva Longoria as executive producers. Watch the trailer here!
We recently caught up with Savannah and got to know 10 Fun Facts about her.
See what she shared inside…
Check out what she shared below…
1. I was born in Queens, New York.
2. Puerto Rican food is my all-time favorite. I could eat Mofongo and Alcapurrias everyday for the rest of my life.
3. When I was little, I wanted to be a teacher. I had a white board easel in my room, and I would set up my stuffed animals in front of it and pretend they were my students. I remember always teaching them vocabulary.
4. I have a huge sweet tooth. Chocolate and Peanut Butter is my favorite combo.
5. My favorite place I've traveled to is Dubai.
6. My favorite on-set snack is a Nutella sandwich.
7. I believed that the tooth fairy was real until I was 12 years old (long story).
8. My favorite movies are Little Shop of Horrors and Jim Henson's Labyrinth.
9. My parents originally wanted to name me Paris or Angelina.
10. If I could have any superpower, it would be the ability to freeze time and teleport to any location.
Stream the first season of Gordita Chronicles on HBO Max now!
Like Just Jared Jr. on FB