Tue, 19 July 2022 at 7:54 pm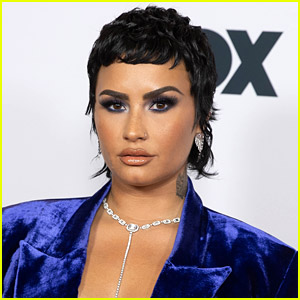 Demi Lovato is opening up about being completely sober now.
The soon-to-be 30-year-old entertainer chatted with SiriusXM's The Morning Mash Up recently and dished on being clearheaded, staying positive, their upcoming album Holy Fvck and more.
Click inside to see what they shared…
"You know, positivity is something that's come a lot easier to me over the recent months, I think I'm just like in such a better place," Demi shared. "I think that being clearheaded without anything in my system just like gives me the will to live and gives me so much to look forward to. Like now I wake up on Mondays and I'm like, 'oh my God, there's a whole week ahead of me.' Like, that's so exciting. Monday, you know what I'm saying?"
One of the co-hosts asked if Demi could teach them those ways.
"I wish, I wish that I could. I wish there was some like tidbit of information, but that I could give you guys to like help everyone think that way, cause it really is so nice," they said. "But I think like when you focus on yourself and you do the work, like I'm, I'm doing therapy, I'm doing all the, the things that I need to be doing in order to stay in a good place. If you focus on yourself, like you'll get there and if you, if you aren't already."
Demi also shared that they are drinking a lot of caffeine right now, as they quit vaping and "my caffeine habits went up and I'm like, oh no, I need to slow down on that too. You know what I'm doing the best I can. And I'm sober and that's all that matters."
Check out Demi's latest single "Substance."
Did you see what Demi said about their last album?
Like Just Jared Jr. on FB