Tue, 02 August 2022 at 1:46 pm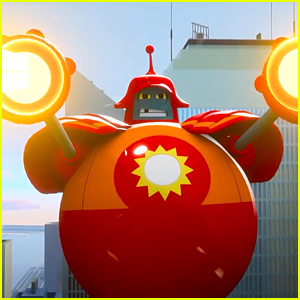 We have an exclusive clip at the upcoming new series Super Giant Robot Brothers!
The animated series, from Reel FX Animation Studios, is a 3D animated action-comedy about giant robots that must save the world from invading kaiju—while overcoming their own sibling rivalry, and debuts this week on Netflix.
Click inside to learn more and watch the clip…
Here's a synopsis: THE EARTH IS UNDER ATTACK! Giant monsters sent from the other side of a black hole are wreaking havoc on the planet, and our only hope of survival lies in the metal hands of Shiny and Thunder, two super giant combative robots who also happen to be brothers.
Along with their inventor Alex Rose, the genius teenage scientist, and Colonel Creed, the head of the Extreme Defense Force, this dysfunctional-yet-lovable family is responsible for averting the apocalypse day-in and day-out.
In our exclusive clip, the brothers are in the middle of a battle when Shiny forgets what he needs to do.
Created by Victor Maldonado and Alfredo Torres, the show features the voices of Marisa Davila, Chris Diamantopoulos and Delbert Hunt.
Super Giant Robot Brothers premieres THURSDAY (August 4) on Netflix!
Check out the exclusive clip and the trailer below…

'Super Giant Robot Brothers' Exclusive Clip

'Super Giant Robot Brothers' Trailer
Like Just Jared Jr. on FB