Fri, 05 August 2022 at 6:45 pm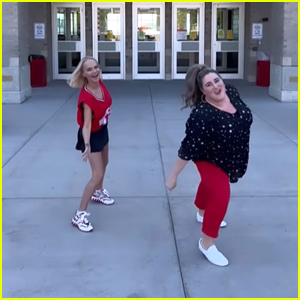 The DCOM crossover we never knew we needed!
High School Musical's Kaycee Stroh (aka Martha Cox) and Descendant's Kristin Chenoweth (Maleficent) united for a new video shared to Instagram on Friday (August 5)!
The Descendants actress shared the video of the two doing the "We're All in This Together" dance from the first HSM movie.
"KayCee + KC ❤️ When life gives you East High… you just HAVE to. I love you, @kaycstroh. Go wildcats!!! 📣😸 p.s. miss you Director-choreographer-extraordinaire @kennyortegablog #wereallinthistogether #highschoolmusical @highschoolmusical" Kristin captioned the video.
Watch the video and see more inside…
High School Musical director and choreographer Kenny Ortega commented, "2 Wildcats that I'm so in love with. Kaycee representing, KC thanks for dropping by East High with the insane schedule you have. What team! 😍"
Kenny and Kristin actually just worked together at her Kristen Chenoweth Broadway Boot Camp.
The Tony award winning star is in town as she has a concert in Park City, Utah this weekend.
The week before, Kaycee posted a video strolling the halls of East High. "Where it all went down! 🐾" she captioned the vid.
These are just the latest videos of High School Musical stars posting at the school or referencing the movies, following Vanessa Hudgens and Zac Efron.
Ashley Tisdale even recently posted a video lip-synching to Sharpay's line in "Stick to the Status Quo." Check it out HERE!
Like Just Jared Jr. on FB