Mon, 26 September 2022 at 1:58 pm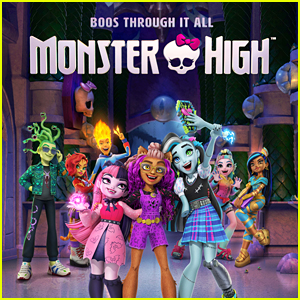 The new Monster High series just got a first look teaser!
Nickelodeon revealed the new sneak peek on Monday (September 26), giving fans a little glimpse into the new series, of course based on the popular dolls and franchise.
In addition to the sneak peek, the network also announced several new cast members joining the series!
Find out more and watch the teaser inside…
Ken Marino, Felicia Day, Valeria Rodriquez, Scott Menville, Cole Massie, Victoria T Washington, Jordan R. Coleman, and Krystina Alabado have all just been announced as new cast members. See who they are voicing below…
They join previously announced Gabrielle Nevaeh Green (Clawdeen Wolf), Courtney Lin (Draculaura), Iris Menas (Frankie Stein), Tony Revolori (Deuce Gorgon), Kausar Mohammed (Cleo De Nile), Valeria Rodriguez (Lagoona Blue), Alexa Kahn (Torelei Stripe), Alexander Polinsky (Heath Burns) and Debra Wilson (Headmistress Bloodgood).
The new series follows Clawdeen Wolf, Draculaura, Frankie Stein, and Deuce Gorgon, as they discover who they are, embrace their differences, and learn to be fierce and fearless at the one place they all belong: Monster High.
JJJ recently caught up with Gabrielle Nevaeh Green, who told us, "It's been a blast to voice Clawdeen, and it's such an honor to be a part of something that people really enjoy." Stay tuned for our full, exclusive interview with the Nickelodeon star!
Monster High premieres in the US on Friday, October 28th at 7pm ET/PT on Nickelodeon. It will debut in Canada, the UK and Australia later this year on Nick and Paramount+, as well as in more international territories in 2023.
Check out the clip and find out about the new casting below…
Ken Marino as Dracula – Dracula is about 4,000 years old and Draculaura's dad. He wants to be a good father but does not always have the necessary tools for the job.
Felicia Day as Ghoulia Yelps – Curious, clever, and with ultra-fast fingers, Ghoulia is a zombie and the top gamer at Monster High.
Valeria Rodriquez as Spectra Vondergeist – This ghostly girl makes up for her translucent appearance by being super chatty. She just wants to be seen!
Scott Menville as Romulus – Romulus is the current head of the were pack at Monster High, though he's still got a bit of learning and growing to do.
Cole Massie as Finnegan Wake – Charming and chill, Finnegan is a merman who uses a wheelchair to get around on land. He has a beautiful singing voice, just like his aunties, the sirens.
Victoria T Washington as Howleen – Howleen is a natural leader who values integrity over the pack mindset and always speaks her mind.
Jordan R. Coleman as Manny Taur – Big, bull-headed Manny looks like a brute, but he's the gentlest kid at school. With his penchant for solving puzzles, he's one of the only students that can compete with Draculaura for honors as a top student.
Krystina Alabado as Nefera De Nile – Nefera is the mummy who has it all – beauty, popularity, royalty, and a heart of gold (literally, she dipped her heart in gold and keeps it in a jar).
Like Just Jared Jr. on FB
Photos: Nickelodeon
Posted to:
Alexa Kahn
,
Alexander Polinsky
,
Casting
,
Cole Massie
,
Courtney Lin
,
Debra Wilson
,
Felicia Day
,
Gabrielle Nevaeh Green
,
Iris Menas
,
Jordan R. Coleman
,
Kausar Mohammed
,
Ken Marino
,
Krystina Alabado
,
Monster High
,
Nickelodeon
,
Scott Menville
,
Television
,
Tony Revolori
,
Valeria Rodriguez
,
Valeria Rodriquez
,
Victoria T Washington