Mon, 03 October 2022 at 9:31 pm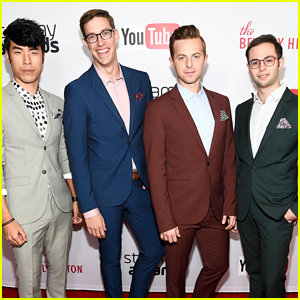 The Try Guys are opening up about the recent drama surrounding them and former member of their group Ned Fulmer.
In case you missed it, Ned was removed from the group after he had an affair with an employee within the company.
The remaining trio – Eugene Lee Yang, Zach Kornfeld and Keith Habersberger – released a brief statement last week on removing Ned, and now they are opening up and sharing more details, including their internal investigation into the accusations.
Click inside to read more…
"We want to give you a timeline of what's transpired and some transparency into our decision making. Throughout this video, there will be things that we want to say or go into further, but as I'm sure you're aware, there are some legal issues we have to consider as we go through everything," Zach said in the beginning of the video.
The guys explain that Labor Day weekend, they were made aware of "Ned and an employee engaging in public romantic behavior" and they checked on the employee, with Ned confirming. They iterate that they had no idea this was going on and it was shocking to find out.
Since then, they began a "three week process of engaging with employment lawyers, corporate lawyers, HR, PR and more in order to make sure we were taking all necessary steps."
They immediately removed Ned from work activities and have since been editing him out of videos, digitally removing him from others, and more. There are even some videos that were in the process that will never see the light of day, "a decision that has cost us lots of money."
The Try Guys also reiterate that there is "a family at the center of this," respect their privacy, and lead with kindness.
"We're losing a friend, we're losing someone we built a company with, we have countless memories with. We just made a TV show together. I'm sure many of you feel the same way. It's weird," Zach added. "We're sorry that this ever happened and we don't know what more to say."
If you missed it, see how Ned's wife Ariel responded to the situation.
Like Just Jared Jr. on FB