Thu, 27 October 2022 at 2:43 pm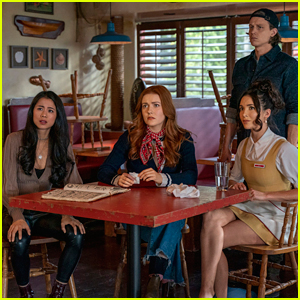 The ladies of Nancy Drew are reacting to the news that their show will be coming to an end.
If you missed it, it was announced Wednesday evening (October 26) that The CW series' upcoming fourth season will be it's last.
Within hours of the public announcement, the cast and crew were told about the decision.
After it was announced, Kennedy McMann, Leah Lewis and Maddison Jaizani took to Twitter to share their reactions to the news.
See what they said inside…
Kennedy wrote, "hi. I just learned about this a few hours ago so it's all a lot & I need a minute, but wanted to come here & say that I LOVE YOU. thank you for making this experience the best it could have ever been. you are everything. this final season is going to knock your socks off. 💜"
In a statement to Deadline, Kennedy also said, "It has been the greatest pleasure to begin my career as one small part of Nancy Drew's endless legacy. What a privilege to walk in her shoes for as long as I have, to be inspired by her and to grow with her. I wish our incredible fans could feel the heart and passion of our crew that has been ever-present on and off screen, day in and day out since the very beginning. You are every bit a part of this incredible show as we are. Thank you, thank you, thank you for every ounce of passion and kindness you have shared with me and with each other."
Leah wrote on her account, "All good things end eventually. What a GIFT getting to be in this universe for so long. I hope all of you enjoy the last season 4 of Nancy Drew when it comes out ❤️ there are too many words for what this show has done for my life."
She added, "Thank you to the fans of @cw_nancydrew for making it what it is today. You truly have helped bring these characters to new light and meaning with the way you've loved them and cherished them. ❤️ We love you. George loves you, as prickly as she is. ✨"
Madison kept it short and sweet, writing, "Hard to digest, very surreal. We love you all and thank you for your undeniable support ♥️"
Production on the fourth and final season of Nancy Drew is currently underway, with a midseason premiere set, likely for early 2023.
Like Just Jared Jr. on FB