Tue, 06 December 2022 at 9:12 pm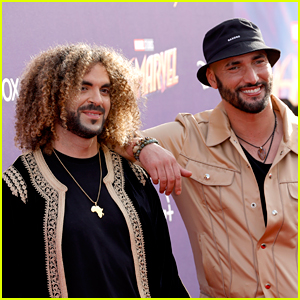 The directors of the scrapped Batgirl are opening up about the possibility of working with Warner Bros Discovery again.
Adil El Arbi and Bilall Fallah were recently in attendance at the Red Sea Film Festival in Saudi Arabia where they spoke out.
The pair were of course directing the DC Comics movie before it got scrapped in post production amid the Warner Bros and Discovery merger earlier this year.
See their initial statement here!
So, would they ever work with the company again on another project? Yes, but only on one condition.
Here's what they said…
"Yeah, we'd still work with them," Bilall said, via THR. "But on the condition that the movie comes out. I mean, if Warner says, 'Do you want to do the next Batman or Superman?,' of course we'll say yes. Just so long as the movie comes out!"
The directing duo shared that they got lots of support from people like James Gunn, who's now co-head of DC, Edgar Wright and Marvel's Kevin Feige.
"There was so much support from people in the industry, it felt like all the artists were supporting us, and that's a great feeling, because you feel like you're not alone," Bilall noted.
They still had quite a bit of post production work left on the film, and they secret screening that took place was only a very rough draft.
"We still needed additional photography, there were a lot of scenes missing, and the VFX was not there," Adil said. "I don't know if [Warner Bros.] are really gonna go for that, but we'll see, sometimes we think it's fucked, but sometime it's like … maybe!"
See how Batgirl star Leslie Grace reacted to the news.
One of the Batgirl actors penned an open letter urging the studio to release the film.
Like Just Jared Jr. on FB