Mon, 19 December 2022 at 2:02 pm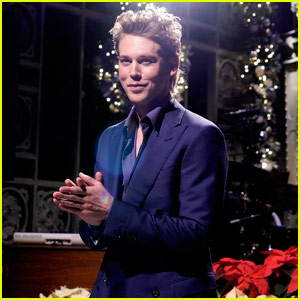 Austin Butler opened Saturday Night Live with a heartfelt tribute to his late mom.
The 31-year-old Elvis star hosted the December 17 show, and he referenced how his mom influenced his acting career in the opening monologue.
He also joked about claims his voice changed after playing Elvis Presley and shouted out another family member in the audience.
Click inside to check out Austin Butler's opening monologue…
Austin let fans know that his sister Ashley was in the audience and celebrating her birthday. He got emotional while talking about his mom, who passed away in 2014.
"I love my mom. Some of my favorite memories from growing up are she and I watching SNL together. We'd watch every week, and even though I had this crippling shyness when I was with her, I'd do anything to make my mom laugh. I'd make funny faces and voices. I'd even do this ridiculous Gollum impression," he said before imitating the classic Lord of the Rings character.
"Being silly with her is really what broke me out of my shell, and it's the core of my what started me in acting," he added. "Tonight just know that anytime you see me doing a silly voice or making a funny face, that's for you mom."
Did you see what Austin had to say about joining the cast of another popular franchise?
Watch Austin Butler's opening monologue from Saturday Night Live below…
Like Just Jared Jr. on FB