Thu, 22 December 2022 at 8:21 pm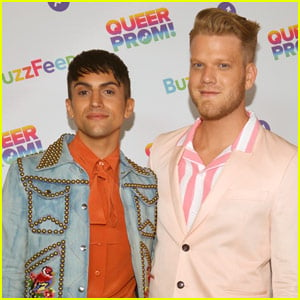 Pentatonix has landed quite a few star-studded musical collaborations since exploding onto the scene in 2011.
Now, group members Mitch Grassi and Scott Hoying are revealing some of their favorite musical mash-ups.
The a cappella musicians hit it big after competing on The Sing-Off in 2011. Since then they've worked with the likes of Kelly Clarkson, Miley Cyrus and Lindsey Stirling.
They opened up about which collabs were the most unforgettable during a recent interview.
The pair, who have also released music as a duo under the moniker Superfruit, spilled the tea during an appearance on People's Every Day podcast.
For Mitch, the answer was seemingly pretty easy. "I would say Stevie Wonder. I mean, legend status," he explained, adding "that was the one where I was like, 'I can't believe this is happening.'"
"And he sang flawlessly and that was one of my favorite performances we ever did too," he added.
Scott had a different answer. "The one person that like kind of stood out was Dolly Parton, just because she just feels like this untouchable goddess," he said.
"That was such an amazing experience and she was so professional and fun and sweet and warm. She didn't even act like a famous person sometimes acts — not at all for how legendary she is," Scott gushed.
Did you know that Scott has recently launched a solo career, too?
Like Just Jared Jr. on FB