Thu, 26 January 2023 at 5:05 pm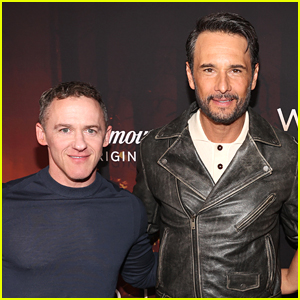 Rodrigo Santoro is opening up about his new series Wolf Pack!
The actor stars in the Paramount+ show as Garrett Briggs, a Los Angeles park ranger dedicated to protecting the environment, and adoptive father to the remarkable teenagers.
He is a man of strong values, who is also someone with dark secrets and deep suspicions, especially towards anyone questioning the relationship with his children who were found in the wildfire years earlier.
In a new interview, he discussed reasons why he joined the show, with creator/executive producer Jeff Davis being one of them.
Here's what he said…
"You know, the show follows this to start with, you know, two teenagers that will have their lives completely changed forever after a wildfire awakened a supernatural creature. That's sort of the plot of the show. I think what we really discuss in here through the characters is of course the wildfire. Which is a very important and relevant, you know, subject matter to be discussed, but through the characters, I think that, you know, Jeff, and one of the reasons that I decided really to join this show is because of the meeting that I had with our showrunner creator Jeff Davis. He, first of all, you know, I really responded to the writing, just the story, you know, the way he tells his story, and I deeply care about the characters by the end of episode one," he shared on Sirius XM's The Jess Cagle Show.
"And what we try to discuss, I think at the core of the show is, you know, this werewolf would be a metaphor for, you know, our fears are the monsters that live inside us. So we are discussing anxiety, depression, isolation, and these, not only the teenagers, which are four, you know, the main characters in the show, but even the character that I play, they go through a lot of stress and feelings of anxiety. And it's just a smart way, I thought was such a smart way to talk about that," Rodrigo continued. "But using this kind of, you know, language and show to discuss this, I think like Wolf Pack is a show that could really be very helpful in normalizing conversations that have been stigmatized for so long. You know, especially after a pandemic, you know, so many people suffering from severe anxiety. I would say that's the core of the show. Then yeah, a lot of adventures and mysteries. And my character Garrett, he's an adopted father of two teenagers, and they have a special condition, a special relationship with nature."
He adds of his character, "The thing is, you know, he's trying to be the best father he can to these kids. He's learning so much, you know, he raised them by himself. You're gonna understand why when you start watching this show and he's gonna do anything to protect his kids from outsiders, but especially from themselves. So I think with that, I give you a little hint of where we're going."
The first episode of Wolf Pack is now streaming on Paramount+, with new episodes debuting on Thursadys. Watch the trailer here!
Like Just Jared Jr. on FB