Fri, 03 February 2023 at 3:00 am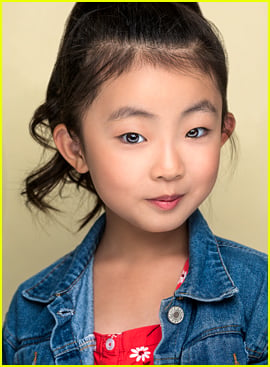 Kristen Cui is having a big week!
The young actress makes her big screen debut in M. Night Shyamalan's new thriller Knock at the Cabin, which is out in theaters now.
She stars as a young girl, who along with her parents, is taken hostage while on vacation by four armed strangers who demand that the family make an unthinkable choice to avert the apocalypse. With limited access to the outside world, the family must decide what they believe before all is lost.
Get to know Kristen Cui inside…
Kristen's co-stars include Jonathan Groff and Ben Aldridge as her parents, plus Dave Bautista, Nikki Amuka-Bird, Abby Quinn and Rupert Grint.
Ahead of the movie's theatrical release, we caught up Kristen and learned 10 Fun Facts about the newcomer.
Find out what she shared with us below…
1. I like to draw landscapes on large canvases, most of which include skies with color gradients. There is a room in my house that has my paintings all over the walls.
2. I have been ice skating for five years, and began practicing because I loved seeing it portrayed in anime. My favorite skater is Yuzuru Hanyu.
3. I have a pink bunny plush toy named Floppy. I named her after the "Bluey" cartoon.
4. My bedroom is all pink, which is my favorite color. I have pink bunkbeds and my plush dolls sleep on the top bunk.
5. I love watermelon, and I especially love to cut it in half and eat it with a spoon.
6. I hate black pepper because it is too spicy for me. I am not a fan of spicy things.
7. I received a set of Harry Potter books for Christmas this year. I am currently on the third book and I love it so much. I can't believe I got to work with Rupert Grint on Knock at the Cabin.
8. If you look closely at my ears, you will see that they look different. One grows towards the back and the other grows towards the side and looks bigger.
9. I like to set four alarm clocks in the morning, all five minutes apart. This is not only to help wake me up, but to also help me count the time.
10. Summer is my favorite season and I love to jump into pools to stay cool!
Check out Kristen in Knock at the Cabin, in theaters now! (JJJ Note: The film may not be suitable for younger audiences. Parental discretion advised.)
Like Just Jared Jr. on FB