Thu, 16 November 2023 at 1:22 am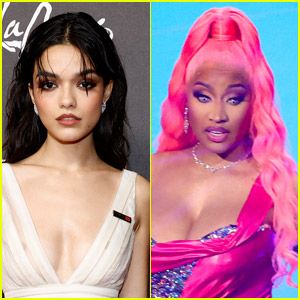 Rachel Zegler is accepting responsibility for a rumor involving Nicki Minaj and the soundtrack for The Hunger Games: The Ballad of Songbirds and Snakes.
The 22-year-old actress stars in the movie, out November 17, and appears on the soundtrack. She accidentally posted something that left fans wondering if Nicki was going to be included, too.
She spilled on what happened in a recent interview.
Keep reading to find out more…
"I accidentally started a rumor that Nicki Minaj was on the album for The Hunger Games: The Ballad of Songbirds and Snakes. It is not true," Rachel clarified while on The Tonight Show Starring Jimmy Fallon.
She continued, saying, "She's not. She's releasing her album on Friday, I believe."
How did the rumor get started? "But, it was one of those things where there's a character named Barb Azure in the movie. And the actress who plays Barb Azure has a great sense of humor. Her name is Honor Gillies. She's so fantastic and posted a video of Nicki Minaj saying, 'Calling all Barbz' when she got cast. And her character plays the standup bass in the movie so obviously I commented, 'Slappin' that super bass.' As you would," Rachel recalled.
"Now the Barbz got me good," she added. "They were screenshotting those comments, posting them all over social media, being like, 'What is Mother doing?' They are very, very, very dedicated and amazing. I am a Barb. I love Nicki. But she's not on the album."
Rachel added that Nicki "started playing into it."
"She posted a TikTok with 'The Hanging Tree' song saying, 'I have something coming out November 17.' She knew what she was doing. I had no idea what I was doing," she joked. "I didn't know if she was on the soundtrack so I was like, 'Okay.'"
Another fan-favorite artist does have a song on the soundtrack, and you'll want to hear it now!
Like Just Jared Jr. on FB