Lucian Perez is making his big screen debut in the new movie Wonder Woman 1984!
The young actor stars as Alistair, who is the son to Pedro Pascal's Maxwell Lord, in the film.
In Wonder Woman 1984, the fate of the world is once more on the line, and only Wonder Woman can save it. This new chapter in the Wonder Woman story finds Diana Prince living quietly among mortals in the vibrant, sleek 1980s—an era of excess driven by the pursuit of having it all.
Though she's come into her full powers, she maintains a low profile, curating ancient artifacts and only performing her superheroic acts incognito. But now, Diana will have to step directly into the spotlight and muster all her wisdom, strength and courage in order to save mankind from a world of its own making.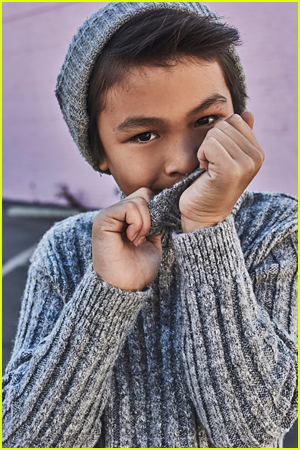 JJJ is getting to know the young actor, Lucian, with 10 Fun Facts about himself. Check it out below…
1. I've been playing guitar since I was six. I love to see live music, my first show was Ohana Fest with Eddie Vedder.
2. I was 6 when I auditioned for WW84, 7 when I shot it, and I'm 9 now.
3. During quarantine, I've played chess with my dad almost every day. I really like beating him.
4. My favorite Star Wars characters are Darth Maul and Ahsoka Tano.
5. I love sports. I play baseball (pitcher and 3rd base) and I competed in two Jiu Jitsu World League tournaments — I won bronze in one and silver in the other. I also do hip hop dance.
Click inside for more fun facts from Lucian Perez… More Here! »