Mon, 17 March 2014 at 12:00 pm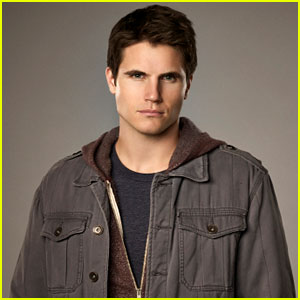 JJJ catches up with Tomorrow People star Robbie Amell in this brand new interview!
In tonight's episode, titled "Superhero," Stephen (Amell) is still walking a fine line with his Ultra partner Hillary (Alexa Vega), who continues to be suspicious of his loyalties.
When the Tomorrow People and Ultra learn that there is a new break-out doing good for humans, they both want her on their side.
Meanwhile, Morgan (guest star Carly Pope) takes a risk and betrays Jedikiah's (Mark Pellegrino) trust to help the Tomorrow People, but what Jedikiah discovers from Morgan is an even bigger surprise.
JJJ got the scoop from Robbie about the mind-blowing rest of the season, which includes romance, danger, and a major badass transformation for Stephen!
The Tomorrow People airs TONIGHT @ 9PM on The CW!
JustJaredJr: We see in the promo that Stephen and Hillary hook up, which seemed inevitable. What can you tease about that?
Robbie Amell: I think more than anything, they both need to let off a little steam. Cara's back with John. Hillary is this stuck-up Tomorrow Person who seems like she's never been laid in her life. I think they're both 18, 19 years old and living these scary lives. I think they just see something in each other and need to blow off some steam.
Click inside to read the rest of our interview with Robbie Amell…
JustJaredJr.com Interview – Robbie Amell
JJJ: Does this mean Stephen and Cara are on the back burner now?
RA: It will be interesting to see how Cara handles the Hillary thing because you know she's going to find out. They have this telepathic connection. So it will be interesting got see how Cara reacts to the other triangle when she's not the one in the center. But to be honest with you, for the next couple of episodes, the love triangle is a little bit on the back burner. Episode 16, you get to see a little bit of the fun side of the Tomorrow People with Russell and his backstory.
You meet this red Avenger who's using their powers as a superhero, kind of like the movie Kick-Ass. The red Avenger kind of inspires Russell and Stephen, and shows them what they could do with their powers. They don't have to just hide underground and waste their lives. There's a cool thing there and it's very much the calm before the storm. It's this fun episode and it ends with a big moment that acts as a catalyst for the next five or six episodes. Episodes 17-22, in my honest opinion, are on a completely different level than the rest of the season. I think we really found a groove and found the stories that people want to see, and we do it in a very big, very badass way. They are really going to blow people's minds.
JJJ: Speaking of blowing minds, Stephen's mom being a Tomorrow Person was a huge reveal. How long did you know about that?
RA: I didn't know much earlier that you guys did. Maybe an episode or two, but not much. When I read it, it blew me away. The only person who really knew for a while were the writers and Sarah, who plays Marla. She knew right off the bat, I guess. It has big implications that she's going to be pulled into this universe now that she's shown her powers. And it also means that I'm a Synergist, which all it does is raise the ceiling of where my abilities can go.
JJJ: We still don't know much about the Founder's intentions with Stephen. Do we start to learn more?
RA: You do. You find out that the Founder does know that I'm a Synergist and he does know that I share my dad's ability to stop time. It becomes a very big part of the last few episodes. The Founder, he's not fully truthful, but he lets Stephen know that he needs his power for something and he starts to train him one-on-one. You really get to see Stephen come into his own and hone his abilities. And really, what I have been waiting for this entire season turned into a total badass.
JJJ: Last week, we saw that Stephen's dad's device turned on. Is that his first clue leading him to realize that Jedekiah has Roger's body preserved?
RA: All of that will come to light in the last scene of Episode 16. Big, big scene that really is the beginning of the end of the first season.
JJJ: We've also seen hints that Jedekiah was jealous of his Roger's powers, and now that we know that siblings can transfer them, is it safe to say that he wants to be a Tomorrow Person?
RA: I think so. How could you not? Anyone who grows up dreams of having these superpowers. And then to watch someone close to you be blessed with them and you not, no matter how much you care for that person, you know that there will be some jealousy. That definitely plays into the last few episodes. You see where everybody stands and everyone's true colors start to come through over the next few episodes. And ultimately, it plays into what's going to be a massive end to this season.
JJJ: Jedekiah seemingly likes being at ULTRA because he can keep tabs on the people he cares about, including Stephen, Morgan, and John. Would you agree?
RA: Mark and I talk about this all the time. It's really become this father-son relationship between Stephen and Jedekiah. It's back and forth. When they make a little bit of headway, the next minute, one of them betrays the other one. They have this very weird relationship, but he's the closes thing Stephen has had to a father. His dad left when he was so young. So you really get to see that relationship come to blows over the next few episodes. They get closer and closer, but the betraying doesn't stop. They're still trying to help themselves. But ultimately, it comes to a pretty brutal impasse in Episode 18 I believe.
JJJ: Finally, Stephen is still trying to balance his paranormal life, his life at ULTRA, and even his life at home. Something's gotta give soon, right?
RA: Yeah, absolutely. The number one thing for Stephen, and this is what I always talk to the writers about, is that it's family and friends first. If it means crossing these lines or giving himself up to save somebody, it's gonna happen. With how high these stakes are and with how much danger everyone's in, everything will start to collapse around him. With that being said, the ultimate goal is to be able to save everyone – not to sacrifice anyone. To create this world where his family and friends are safe, and can live normal lives. They don't have to look over their shoulders every minute. I think that's what we're getting in these last few episodes.
Like Just Jared Jr. on FB