Thu, 10 July 2014 at 7:00 pm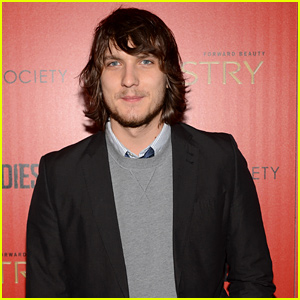 When JJJ found out that Scott Michael Foster was going to be Kristoff in the upcoming season of Once Upon A Time, we had two reactions.
The first was "Why didn't we think of him for our dream casting?" (we promptly knocked our heads after that) and the second reaction was completely joy. We had a mini-dance party in our offices about the news.
Scott, 29, was kind enough to let us ask a few questions about his upcoming role on the ABC show and even a few about his recurring status as Leo on Chasing Life. Check out what he dished below!
JustJaredJr.com: Congrats on getting the role of Kristoff! Tell us how you prepared for your audition and how you celebrated after.
Scott Michael Foster: Well, I watched the movie with my nieces and nephews about a dozen times so I REALLY got to know who Kristoff was before the audition. I celebrated with my family, who happened to be in town when I found out I got the role, at a wonderful restaurant in beautiful downtown Studio City.
JJJ: Everyone is a closet Frozen fan. How many times did you watch it?
SMF: Dozens…
(Click inside for the rest of our interview with Scott Michael Foster…)
JJJ: Kristoff is an extremely likable character. Where are you excited to take him on the show?
SMF: Absolutely! Not only is this a great opportunity for me as an actor but it's going to score me cool uncle points as well. As far as taking him somewhere… I'm not sure. I'll have to see what the writers want and hopefully we'll get to do some cool things. Maybe a buddy comedy with Sven?
JJJ: Once is all about fairytales and the true nature and reality of them. Do you have a favorite tale yourself?
SMF: I'd like to think I'm writing my own "tale" so to speak. As far as other fairytales? I like Aladdin.
JJJ: Now onto Chasing Life, one of our fave new shows. Your character is one we love to hate and hate to love. What drew you to him?
SMF: Exactly that. You love to hate and hate to love him. He's complex in that you think you know who he is but in reality there is so much more to him – That's what drew me to the role.
JJJ: We're only four episodes in to the show and we're not sure how to take Leo and April's relationship right now. Can you tease on where it will go?
SMF: You'll take it and you'll like it! But seriously, You'll just have to watch and find out. (Spoiler…I think you'll enjoy it!)
JJJ: Leo is just recurring right now. Do you think this could turn into a more permanent regular role? (Side note: we hope so!)
SMF: Who knows? Maybe if they're still fond of me next year.
JJJ: What do you chase in life?
SMF: I chase this career of mine…all over the place. I just want to entertain people and I'll always chase my dream of doing just that.
Like Just Jared Jr. on FB