Mon, 17 August 2015 at 4:00 pm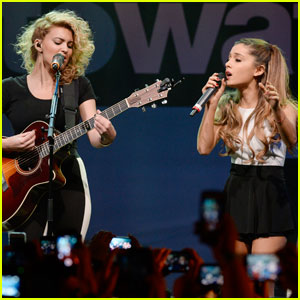 We Love Disney sounds like the ultimate Disney playlist!
The studio just announced that they've enlisted 12 amazing artists – from Ariana Grande and Tori Kelly, to Jason Derulo and Kacey Musgraves – to cover their beloved Disney classics for a new compilation album!
The first full song from the upcoming release is Ne-Yo's "Friend Like Me" from 1992′s Aladdin. Listen below!
And be sure to pre-order your copy now before it drops on October 30!

Ne-Yo Covers "Friend Like Me"
Click inside to see the full track listing…
We Love Disney
1. Friend Like Me (From Aladdin) – Ne-Yo
2. Part of Your World (From The Little Mermaid) – Jessie J
3. Can You Feel the Love Tonight / Nants' Ingonyama (From The Lion King) – Jason Derulo
4. The Rainbow Connection (From The Muppet Movie) – Gwen Stefani
5. Zero to Hero (From Hercules) – Ariana Grande
6. In a World of My Own / Very Good Advice (From Alice in Wonderland) – Jhenι Aiko
7. I Wan'na Be Like You (The Monkey Song) (From The Jungle Book) – Fall Out Boy
8. Colors of the Wind (From Pocahontas) – Tori Kelly
9. Spoonful of Sugar (From Mary Poppins) – Kacey Musgraves
10. Ev'rybody Wants to Be a Cat (From The Aristocats) – Charles Perry
11. A Dream Is a Wish Your Heart Makes (From Cinderella) – Jessie Ware
12. Let It Go (From Frozen) – Rascal Flatts & Lucy Hale
13. It's a Small World – We Love Disney Artists
14. It's Not Easy Being Green (From The Muppet Show) – Brenna Whitaker
15. A Whole New World (From Aladdin) – Yuna
Like Just Jared Jr. on FB