Mon, 05 October 2015 at 7:00 pm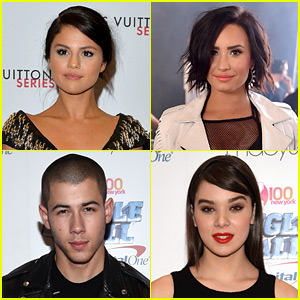 The 2015 iHeartRadio Jingle Ball lineups have been released and there are so many amazing musicians planning on playing the live shows!
The concerts will be heading to New York City, Los Angeles, Boston, Miami, Chicago, and more.
Nick Jonas, One Direction, Hailee Steinfeld, Calvin Harris, Demi Lovato, Ellie Goulding and more will be taking the stage at one or more of the concerts.
Pre-sale begins tomorrow!
Also pictured inside: Hailee, radio personality Elvis Duran, and Nick at Z100′s Jingle Ball Official Kick Off Event held at Macy's Herald Square on Monday (October 5) in NYC.
Click inside to see the lineups for Jingle Ball…
Dallas, TX – December 1
One Direction, Calvin Harris, Demi Lovato, 5 Seconds of Summer, Ellie Goulding, Zedd, Shawn Mendes, Tove Lo, Charlie Puth, DNCE
San Francisco/Oakland, CA – December 3
Selena Gomez, Calvin Harris, Demi Lovato, Nick Jonas, Tove Lo, Shawn Mendes, R. City, Conrad Sewell, Alessia Cara, DNCE
Los Angeles, CA – December 4
One Direction, The Weeknd, Selena Gomez, 5 Seconds of Summer, Ellie Goulding, Shawn Mendes, Tove Lo, Charlie Puth, Zedd, Hailee Steinfeld, Conrad Sewell, DNCE
Minneapolis/St. Paul, MN – December 7
Calvin Harris, Demi Lovato, Fall Out Boy, Nick Jonas, Zedd, Shawn Mendes, Charlie Puth, Tove Lo, R. City, Hailee Steinfeld, Becky G, DNCE
Philadelphia, PA – December 9
Calvin Harris, Selena Gomez, 5 Seconds of Summer, Shawn Mendes, Tove Lo, Charlie Puth, Hailee Steinfeld, R. City, Natalie La Rose, Conrad Sewell and Alessia Cara
Boston, MA – December 10
The Weeknd, Calvin Harris, 5 Seconds of Summer, Demi Lovato, Nick Jonas, Tove Lo, Hailee Steinfeld, Natalie La Rose
New York, NY – December 11
The Weeknd, Calvin Harris, Selena Gomez, 5 Seconds of Summer, Demi Lovato, Nick Jonas, Fifth Harmony, Zedd, Shawn Mendes, Tove Lo, Charlie Puth, Hailee Steinfeld, R. City, Conrad Sewell, DNCE
Washington, DC – December 14
5 Seconds of Summer, Demi Lovato, Shawn Mendes, Zedd, Tove Lo, Charlie Puth, Hailee Steinfeld, R. City, Alessia Cara and Natalie La Rose
Chicago, IL – December 16
5 Seconds of Summer, Selena Gomez, Nick Jonas, Fifth Harmony, Shawn Mendes, Tove Lo, Charlie Puth, Hailee Steinfeld, R. City, DNCE
Miami/Ft. Lauderdale, FL – December 18
The Weeknd, 5 Seconds of Summer, Demi Lovato, Nick Jonas, Zedd, Shawn Mendes, Tove Lo, Charlie Puth, Hailee Steinfeld, R. City, Conrad Sewell, DNCE
Tampa, FL – December 19
5 Seconds of Summer, Demi Lovato, Nick Jonas, Zedd, Shawn Mendes, Tove Lo, Charlie Puth, R. City, Hailee Steinfeld, Conrad Sewell, Alessia Cara, DNCE
Like Just Jared Jr. on FB