Thu, 12 January 2017 at 5:59 pm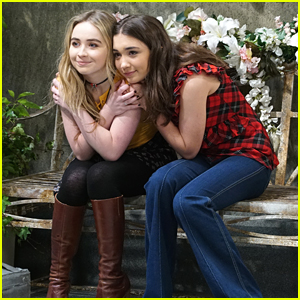 Girl Meets World creator Michael Jacobs is opening up more about the fans and the possibility of the show going elsewhere to continue on.
In a new interview with TheWrap, he opens up about the possibility of continuing the show, why it was cancelled on Disney Channel and more.
"I don't think 'Girl' should have been canceled," he shared. "We signed to do four seasons. I thought we would be able to tell stories through four seasons. That's the way we set it up. It was going to be a remarkable final year. But I understand, things end."
Check out more excerpts from Mr. Jacobs' interview:
On which cast members would follow: "I believe everyone will be on board. But I have to say, there are practicalities to this. When something is canceled, that basically releases everyone to make their own decisions. But I think the experience of this particular show was such a good experience for this cast and this crew that – I can't speak for everyone – but I think the inclination would be to stay together if we could."
On the stories that were explored on Disney Channel: "We were pushing down all kinds of walls at Disney, I don't think they expected or had really ever seen – we would have kept going. But it becomes problematic because I think the mandate of that network is younger kids. If you examine what happened, it's okay, no harm, no foul, we simply outgrew that venue. That's why I perceive there might be interest somewhere else, because of the types of stories we could tell."
Click inside to see what else he revealed…
On changing the next season he had in his mind: "Yes, [I would be changing it]. One of the things about meeting the world is that sometimes you will make a mistake. And I think that's been part and parcel to so many of our stories. So it's okay that Disney Channel made a mistake. Maybe they'll come around to realizing they made a mistake, and if that happens, sure, we would be able to continue with I think an extraordinary entertaining fourth season. And if it is that we go to another venue, yes, there would be a re-calibration of what that audience wants and expects from us. In the end, we're doing this for the audience. That's the relationship that would spur us to continue if we were so lucky to get the chance. The audience at the venue we would go to, if that happened, would be who we would cater to.
On it's cancellation and the fans: "I'm sure with any show that gets canceled, there's talks about sustaining it. The difference here is the audience reaction. Circling back – the paper airplane campaign, calling the actual cable stations and saying 'this is the next show we want here,' the overwhelming response – there's a symbiosis between this show and its audience, that is so incredibly appreciated by us that yeah, if there's a teamwork that is able to create a sustenance in this show, that would be spectacular. If not, and the show ends up going away, as I tweeted, we absolutely gave you our best."
Like Just Jared Jr. on FB