Wed, 15 March 2017 at 1:32 pm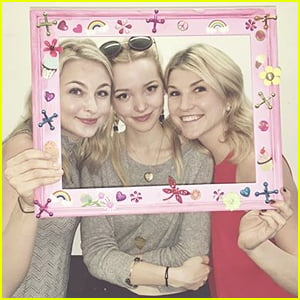 To make one girl into two, it takes three girls.
A saying that's been on the set of Liv and Maddie since the beginning, Ron Hart and John D. Beck talked with JJJ about the search to find them and just how perfect they were with Dove.
"Emmy and Shelby were such a huge part of this show and the mastermind behind creating the twin look was Andy Fickman, our executive producer," the show-runners tell us.
"He went project by project where actors had played two roles and how they produced it. There are all sorts of computer graphics wizardry that they do on Orphan Black, but at the end of the day, what was going to work for us on a multi camera show, week by week, was the exact same technology that they did on The Patty Duke Show."
Both girls, who went on to become Linda and Heather in episode for another show within the show, had a very weird audition process too.
Click inside to read!
"It was the weirdest audition experience ever," Ron shares. "They came in and they read and then Andy Fickman came in and puts them nose to nose with Dove. Then back to back and side to side and we were looking like how many inches of their jaw matched with Dove's jaw, and how much of their forehead is going to match hers. Inch by inch."
"It was a weirdly intimate experience…it was truly bizarre., but it was oddly satisfying too."
John adds, "It was important for us to get actresses and not just body doubles. It really helped Dove with her performance too…the cool thing was that we had three girls working to make both of these characters come alive."
In fact, Dove would spot something about the twins, just like Emmy and Shelby.
"Emmy would find something about Liv, or Shelby had this thing about Maddie," John and Ron both added. "They all just trusted each other with these characters."
======================================
The next episode of Liv and Maddie airs Friday, March 17th @ 5:30PM ET/PT on Disney Channel

Liv and Maddie: Let the Cloning Begin!
Like Just Jared Jr. on FB