Fri, 16 June 2017 at 3:27 pm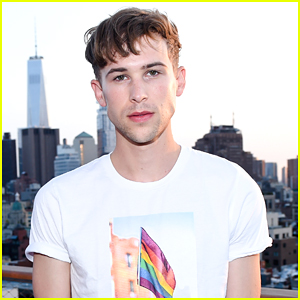 You may not realize it, but clothing and fashion are a powerful thing — it actually helped Tommy Dorfman come out in his own way.
The 13 Reasons Why star wrote a great essay for Pride Month and in it, he reveals how he used fashion to express himself and how it played a major role in helping him come out as gay.
"Growing up, I was always the 'weird kid' at school. I wore (mostly) girls' clothes, because I preferred girls' clothes," he reveals. "I was obsessive about dressing like the Spice Girls, which meant bell-bottoms, tube tops, and platform shoes. I had shaggy hair and my nails were always painted."
Tommy continues, "As I grew older, and thanks in part to years of bullying, I became self-conscious about not fitting in."
"The older I got, the meaner my peers got, and eventually I broke. I was sick of getting sh*t for being different, so I laid to rest all of the quirks and queer tendencies and worked on blending in. I wore my older brother's clothes: baggy pants from PacSun, boxers, AirWalk skate shoes. Everything four sizes too big. It felt heavy. It became drag for me, a part to play to survive from grades five through nine."
"But still, underneath all those layers, I was always queer," Tommy shares; and eventually, he came out using Facebook, and even better clothes.
"Instead of telling people in school, I simply changed my Facebook info," he says. "I enjoyed hearing whispers in the hallway about it, an undercurrent of gossip from my peers."
"Instead of verbal confirmation, I used clothing and mannerisms attached to stereotypes of how I thought gay people were meant to act and dress."
Tommy is pictured at W magazine's Who's Who cocktail party in Los Angeles last night.
Like Just Jared Jr. on FB