Tue, 20 June 2017 at 1:30 pm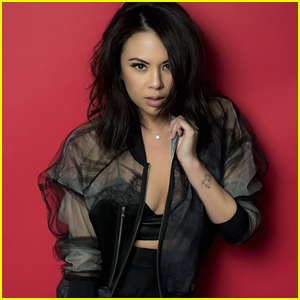 Janel Parrish stuns in her new photo shoot with photographer Glenn Nutley, debuting on JustJaredJr.com.
The Pretty Little Liars actress also talked with JJJ about Mona's legacy on the show and just what she'll be getting up to in the final few episodes.
"She's smart. She's snarky. She's sneaky," Janel tells us about her love-to-hate character.
"She looks out for herself. She knows how to survive and isn't apologizing for how she does it."
In the upcoming episodes, "Mona starts to get pulled in by the darkness of the game" — which we all saw she had stashed in her apartment in last week's ep.
Janel adds, "It starts to mess with her mind a bit…you'll see Mona go on a bit of an emotional journey."
We also talked about just how Mona is part of the Liars, but isn't — she's that 6th wheel out, who's trying to be part of it all.
"I think she's genuinely sad. She has always wants to be accepted by the girls…takes her back to those nerdy Mona days," she told us. "She has done some awful things to them."
However, Janel has a point about Mona trying to make it up to them.
"I do feel she genuinely has been trying to prove she deserves a place in their group. She's just bit too snarky and smug to admit it to them all."
Like Just Jared Jr. on FB