Thu, 22 June 2017 at 7:13 pm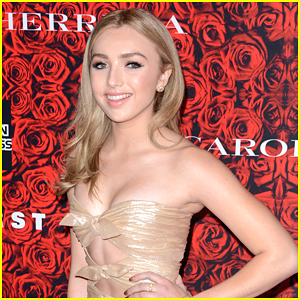 Peyton List is becoming a bonafide movie star and JJJ is loving it!
The young actress already has The Thinning and Departures under her belt and just started working on Valley Girl.
In an interview with The HuffPo's The Tea newsletter, Peyton opened up about her role in Anthem — and how it's not a film you'd ever picture her in.
"The book and the movie are both so dark. There weren't a lot of light moments, and Faith kind of brought that lightness," she says of her character.
"She's someone I admire so much. For someone going through such a dark thing, she has so much strength and so much positivity. I thought she was such a cool character. In all the descriptions, she's the girlfriend, but she's also so much more than that."
Peyton goes on to say that teens will learn a major lesson from the film — that not everyone is perfect.
"I think there is that sort of darkness. It's not like everyone has perfect skin and every moment is perfect and high school is perfect," she adds. "My character is not like the cheerleader who gets with the most popular guy. It's just more real, I think."
Peyton continues, "It's set in the nineties but it's one of the realest teen scripts that I've read. I feel like it captures the problems that everyone goes through. Also, it teaches you to appreciate the little moments. Especially now with social media, I get so wrapped up in everything that I forget to appreciate what's around me at the moment. This movie does a really good job of that."
Like Just Jared Jr. on FB