Fri, 04 August 2017 at 9:30 pm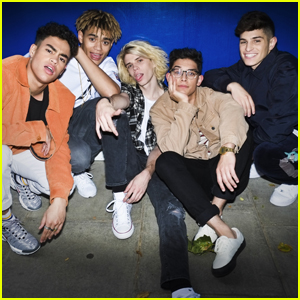 For as long as we can remember, we have had boy bands around, and yes, we obsessed over each and every one of them; and it's the same story for PRETTYMUCH.
But these guys — Austin Porter, Brandon Arreaga, Edwin Honoret, Nick Mara and Zion Kuwonu — are different from all the rest. How so?
"We dance," Edwin tells JJJ instantly. "It's a different ERA of dance now –we just want to incorporate more dance."
Brandon adds, "We're disciplined within ourselves, and we push each other to be the best and not to just settle."
"We also don't look alike," Edwin laughs. "We come from different areas across the country– different styles and personalities."
Austin says, "I was also thinking about this the other day, each one of us represents different that group of kids in school. Edwin is part of the cool fashion kids, Brandon represents the football/athletic kids; Nick is the trying to be like an the athletic kid."
He adds, "Zion is the kid you just want to hang with and is everyone's best friend, and then I'm the theatre/drama kids. So we hit everyone."
Listen to their debut single "Would You Mind" right now!
Like Just Jared Jr. on FB