Thu, 28 September 2017 at 1:41 pm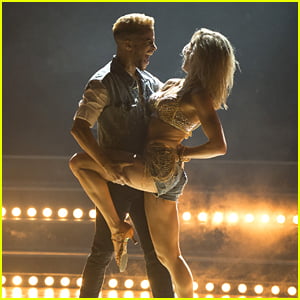 Lindsay Arnold is still going strong after not just one, but two dances this week with partner Jordan Fisher on Dancing With The Stars.
Speaking with JJJ for her exclusive weekly blog throughout the season, the pro opened up about taking on the two dances with a few things in their way, and just what she thought about judge Len Goodman's Cuban heel comment.
"Going into this week, knowing that there were two nights of dancing and two nights of elimination, it was pretty daunting," Lindsay shares. "We had an insane week too."
"They didn't show anything that went on during our week in our video package. Immediately after the premiere, we hopped on a red eye and flew straight to New York, we missed a day of rehearsing there, we only had one day there to rehearse. Then, flew back to LA, had a couple hours of rehearsal then and then Jordan spent all of Friday filming his music video for "Mess" (which is going to be incredible), but it definitely took a lot of time away from us rehearsing."
But that wasn't the biggest hurdle for them. This was: "On top of all that though, we both came down with a cold!"
Lindsay adds, "We were sick the entire week and we were not healthy at all. I was still so proud of him because he pushed through all of the challenges he faced that week. He was such a busy guy and handled two dances like a champ. I was so proud of how well both of our performances went."
"I think…we made it a goal for ourselves that we would always try to meet or exceed our standard that we set on week one and we did that both nights. We got straight 8′s both nights and we were stoked about that. That's two points higher than our premiere score and we were very happy."
However, she did have something to say about Len's comment about Jordan wearing the Cuban heels for their samba — something another celeb hasn't done before.
Click inside now to see how Lindsay felt about it…
"I was very shocked that Len said something about the Cuban heel like that," Lindsay admits. "Technically, when you dance a Latin, the male should be in a Cuban heel. On our show, a lot of the time it doesn't happen; a lot of the celebs will opt out and decide to dance in their tennis shoes or something else."
"In my opinion, that's not true to the nature of Latin. And Len, of all people who gets on us as pros to keep the dances true to their nature, I was extremely shocked that he said something to say about them other than 'Thank you for really staying true to Latin as a style.'"
"The truth is that the Cuban heel does enhance the male's dancing," she adds. "It keeps you on your toes and keeps you away from doing heel leads and there are so many benefits that come from it. I was proud of Jordan for wearing them. From day one, he was like 'I want to wear the Cuban heels. I want to wear what all the pro guys are wearing.'"
"I was disappointed in Len for all of the sudden becoming not the normal stickler that he is on that and not commending Jordan for taking on a challenge that most celebrities don't bother to. I was shocked and more surprised that that wasn't something Len didn't appreciate a little bit more. It was a weird comment and taken aback by it."
"However, it was good for me, because it proved just how well Jordan wants to do in this competition. He doesn't want to just skate by but wants to dive into all the aspects of this show and I love that."
Stay tuned for more from Lindsay and the scoop on their next dance!
Like Just Jared Jr. on FB