Wed, 04 July 2018 at 1:30 pm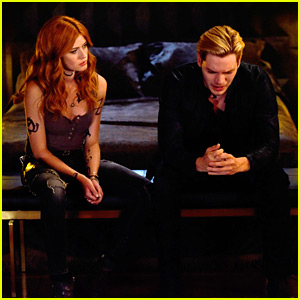 Katherine McNamara is giving us a glimpse of what's to come with Clary and Jace in a recent interview.
The Shadowhunters starlet opened up about where the couple is after he threw her off a roof in the season 3a finale, and just where they go from there.
"I don't know if it necessarily affects Clary as much as it will affect Jace, to be honest, because Clary understands what's going on and she knows that it happened but that deep down she knows it wasn't him," she shared about him tossing her off the roof. "But Jace knows what he did and he saw it happen."
Katherine adds, "That guilt is going to weigh down on him because ultimately he puts pressure on himself to be the perfect warrior and hero and to be the golden angel that everyone sees him as…"
The guilt will get to them both, despite neither of them being at true fault. So where do they go from there?
"I think it's [his possession is] going to affect everything because essentially the last time they spoke was when he threw her off the roof…there's always [going to be] that moment of darkness in their relationship," Katherine says.
But don't give up hope on Clace: "For better or for worse, they're both different people now so we'll see how that affects their relationship moving forward. It definitely doesn't make it easy."
Shadowhunters is set to return in 2019.
Like Just Jared Jr. on FB