Tue, 29 January 2019 at 11:09 am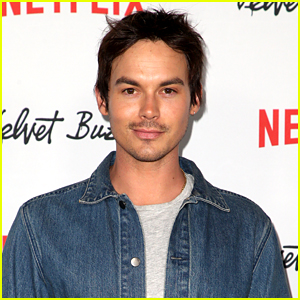 Tyler Blackburn was once part of the best on-screen relationship ever (Haleb on Pretty Little Liars), and now, he's part of the next great ship on Roswell, New Mexico with Malex – Alex and Michael.
Talking with TVGuide, Tyler and Michael Vlamis both chatted about how the on-screen coupling was important to show and the response from the fans.
"All around the response has been really good, actually," he shared. "That's an important thing to have actually these days. You have to have a ship name, and they [the fans] gave it to us after the first episode, so I think we're doing something right."
Tyler adds about the couple's kiss in the latest episode, "It was almost like an unspoken understanding that we were just going to go for it, and I feel like we both understood their dynamic, and there was no other way to play it besides longing and passionate. I mean, that kiss was 10 years in the making, and I think there's no other way to have that translate…"
He continues, "I think it's really great that the writers have really chosen for this relationship to be so passionate because it's not that common to see, especially in mainstream television, to see LGBTQ characters just depicted so human and raw and real."
Michael added, "I don't think anybody on the show has ever looked at it as a gay, bisexual or any kind of relationship. It's just a relationship. It's just love in its purest state."
Roswell, New Mexico's newest episode airs Tuesday, January 29th on The CW.
FYI: Tyler is pictured below at the premiere of Netflix's Velvet Buzzsaw at American Cinematheque's Egyptian Theatre on Monday night (January 28) in Los Angeles.
Like Just Jared Jr. on FB