Tue, 02 April 2019 at 12:05 pm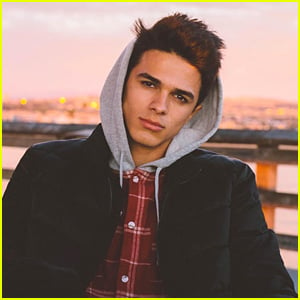 JJJ is so excited to announce the 2019 VidCon lineup!
The three day event will bring together all your fave creators including Brent Rivera, Colleen Ballinger, Alexis G. Zall, Trevor Moran, Guava Juice and Sofie Dossi.
Shalom Blac, Olga Kay, LDShadowLady, Motoki Maxted, Andrea Russett, The Crazy Gorilla, Louie's Life, Thomas Sanders, Danny Gonzalez, Drew Gooden, Natalie Casanova (TheZombiUnicorn), Jibrizy, Jaz Saini and Harjit Bhandal (YouTwoTV), InquisitorMaster, and Rosy McMichael are also stepping out for the fun convention as Featured Creators, which runs from July 10th – July 13th in Anaheim, Calif.
VidCon gathers top digital creators, industry leaders, and fans for panel discussions, meet and greets, workshops and live performances and much more.
To grab your tickets, head to VidCon.com now!
JJJ even spoke to Brent about the event and what fans can expect at the convention this year.
"It's definitely a cool time, there are always fun events and experiences to go to and great people to meet. It's pretty much like the internet coming to life!" he told us.
Click inside for more of our interview with Brent Rivera…
JJJ: Congrats on being part of VidCon! Can you tell us what you will do there?
BRENT RIVERA: Thank you! I'm planning on going with my friends, going to different events, and doing a meet and greet there with a few of my best friends!
JJJ: What are you looking forward to at VidCon?
BR: I always love seeing other creators that I know and meeting my supporters. It's a fun event that bring everyone together :)
JJJ: What's the best thing about VidCon?
BR: Definitely seeing friends and my supporters in a fun environment!
JJJ: What's been your favorite video to create so far?
BR: Recently I did a parody to Ariana Grande's "Thank U Next" called "Thank you Brent" and it was a blast!
JJJ: What types of things are you working on right now? Can you tease what your next project is about?
BR: I'm always looking to do fun and new things. I'm filming season 2 of my Hulu show Light As A Feather and working on new and fun content with my friends
JJJ: Is there someone you've been really wanting to work with, but haven't yet?
BR: I would have to say Will Smith
JJJ: You just starred in Hulu's Light as Feather as Issac. Will you be returning for season two? How much fun was that role for you to play?
BR: Yes I'm actually filming now! It was a really cool experience for me and different than what I typically do. I'm excited to be involved again :)
Like Just Jared Jr. on FB