Sun, 14 July 2019 at 3:19 pm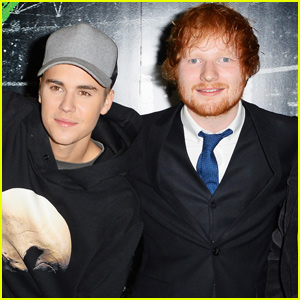 Ed Sheeran dropped his new song "I Don't Care" with Justin Bieber earlier this year, but the collaboration wasn't his idea!
The 28-year-old musician musician just revealed that his wife Cherry made the suggestion.
"Bieber just got married. I just got married. That song is about the person you love, and kind of just being like 'F**k this, let's just have fun ourselves.' It was actually Cherry's idea, because she was like, 'Oh, why don't you get Bieber? He'd be perfect for this, he just fits it,'" Ed told iHeartRadio's Charlamagne tha God.
He continued, "I have quite a good relationship with him. I met him at [New York City's] Z100. He came up and said, 'Oh I'm a big fan,' and I was like, 'Wow, have you heard my music?' So we kept in touch. I wrote some songs for him and with for his projects. We've just hung out a bunch of times. I wanna work with Bieber. He's just got one of these voices that works on anything, and he's got personality when he sings."
Make sure to listen to Ed and Justin's song "I Don't Care" and then check out his entire album of collaborations!
Like Just Jared Jr. on FB