Thu, 18 July 2019 at 12:30 pm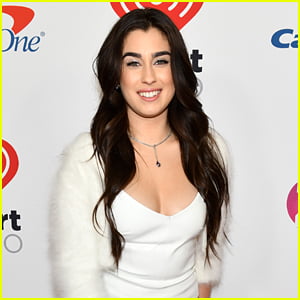 Lauren Jauregui is embracing herself completely!
The 23-year-old former Fifth Harmony singer took to Instagram on Thursday (July 18) to share an inspiring story about her journey to learning to love her smile.
"At some point I stopped smiling in pictures," she wrote. "When I was 16 and started this journey I was on a carpet once and I remember hating the way I looked when I smiled. I was a novice to that being in front of a camera thing and realized quickly my genuine smile gave me a double chin sometimes, and my eyes squinted up, and sometimes my gums showed too much and I would notice that one tooth that I lost when I was 14 instead of when I was little and grew in a little weird."
This weekend, Lauren revealed, that finally started to change.
"Over this weekend I was asked so many times to smile, and not in the condescending way that men who want my attention do it, but a genuine love for my expression when I was happy," she continued. "Which I am now more than I can fathom. I was told how beautiful my smile is, and for the first time I think I believed it. Because my smile means something again. And it reaches my eyes. And I don't care if I look a little weird in some of the pictures that capture it anymore because I don't look at my tagged photos as much and sometimes I look like this, which is worth a bad pic or two. Anyway. Idk why I'm writing this, but if your smile isn't reaching your eyes, find the thing that brings it back to your face. Make that thing be you. Make yourself fall in love with your smile again because it's a reflection of your soul, in this very moment. Blissfully present. And it's powerful."
Read the Instagram post Lauren Jauregui shared that was so emotional, it literally made Dove Cameron cry here!
Like Just Jared Jr. on FB