Wed, 11 December 2019 at 4:52 pm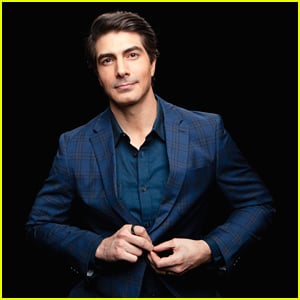 Brandon Routh is opening up about getting the chance to play Superman once again in the Crisis On Infinite Earths crossover.
The Legends of Tomorrow actor reprised his Clark Kent/Superman role from Superman Returns, and he dished about returning to the character while appearing at Build Series by Yahoo on Tuesday (December 10) in New York City.
"We found out about the landscape of the season before we started shooting. Then, about two weeks later or something, I got a call from Marc Guggenheim, who's kind of the puppet master of the crossover extravaganza. He said, 'Hey, you know, I know this is happening with Legends and I'm over here doing the crossover, and we want you to be part of it as Ray Palmer and The Atom, but would you consider… I have this idea, we're doing Crisis On Infinite Earths. Would you be interested in putting on a different suit also?'" Brandon said.
"And I thought, 'Oh I know where you're going with this.' I said, 'Look, I'm really honored that you even ask me. Is everybody really okay with this? Is this something if I say yes, is this really going to happen?'" he added. "I said I just need to settle with this and think about his for a little bit and talk it over with Courtney [Ford] and realize that you know, it was a good decision and that no matter how much he appeared on screen, no matter what he did, just being able to come back and reprise this role that would help complete the journey of Superman for me."
"My first gut instinct was like 'Yeah, yeah!' but I had to consider and understand where the story was going to be like and the landscape for that," Brandon continued. "There's only so much you ever really have control of and I knew that no matter, again, even if it was just Superman coming in saying, 'Hi, nice to see ya,' and walking out, that that still would have been okay for me."
"For me, it wasn't just presence on screen, it was the whole thing, the costume fitting… the whole part of it was healing in many ways for me."
Like Just Jared Jr. on FB