Fri, 13 March 2020 at 11:00 am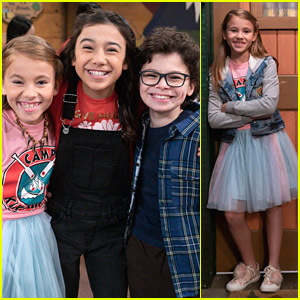 Shaylee Mansfield is guest starring on Bunk'd tonight (March 13)!!
The young, deaf actress will play Willow, a young camper whom Gwen suspects may actually be a forest fairy.
Just Jared Jr spoke with Shaylee about her role, and why it's important for kids to see Deafness and ASL represented on TV.
"So many hearing people are learning American Sign Language (ASL), which is awesome. Unfortunately, some hearing people do use ASL in TV, movies, and social media, which gets more attention. Where did sign language come from? Deaf people, of course!" she told us. "It's SO important to show authentic, Deaf people on the screen to inspire Deaf children to be themselves."
Shaylee also shared what it was like working with the cast.
"On my first day of working on set, I was really nervous. What would it be like working with the cast? Will they welcome me?" she said.
"This all faded away as soon as the cast invited me to eat lunch with them. They even asked me what's the sign for this or that. Oh yes, I met Will's adorable dog. Hello, dog lover here! We played Crazy Eights," Shaylee continued. "All of this made me feel more connected with the cast, which brought my best acting out of me for Bunk'd!"
Raphael Alejandro has scenes with Shaylee and he recently told JJJ that he learned some ASL specifically for her appearance.
"I learned a little bit of ASL on my current show Bunk'd," he said in his 10 Fun Facts feature. "A girl that is deaf starred in one episode of Season 4 and in my scenes, I acted as her translator."
Tune in to catch Shaylee on an all new episode of Bunk'd TONIGHT (March 13) at 8pm ET on Disney Channel!
Like Just Jared Jr. on FB