Tue, 07 April 2020 at 6:52 pm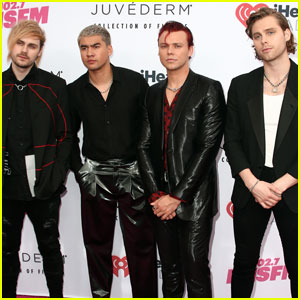 5 Seconds of Summer fans are campaigning to get music charts to recount the band's first week sales after a shipping error.
Prior to the release of CALM, the group – Michael Clifford, Ashton Irwin, Luke Hemmings and Calum Hood – revealed that thousands of their albums were accidentally shipped out early by a warehouse.
Since the albums were given to the public early, they would not be counted towards the band's first week sales due to Billboard's longstanding policy to reflect album sale activity in the tracking week that the paying customer receives the album.
"We still wanna make our album chart next week as big as possible and want to thank you all so much, to everyone that is streaming or has bought the album," the band wrote on their Instagram.
Unfortunately, the 10,000 albums separated the band from the top spot, leading the album to chart at number two. While they didn't top the charts in the US, they did go number one in both the United Kingdom and Australia.
Since then, fans have been asking Billboard to reconsider. The outlet has not yet repelled their decision.
Even if the guys didn't get the number one spot in the US, we're still super proud of their sucess!
READ MORE: Find out the super sweet way Ashton thanked fans for their number one album in the UK
Like Just Jared Jr. on FB