Sat, 02 May 2020 at 4:25 pm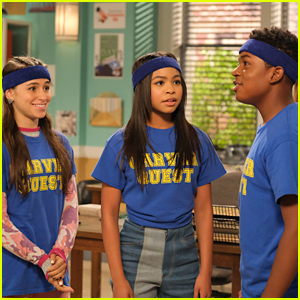 Get ready for day full of Raven's Home!
On Sunday (May 3), Disney Channel will be airing a Raven's Home marathon, ending with the season finale "Level Up".
In the episode, Booker, Nia and Tess team up to win the end of the year 8th-grade treasure hunt in hopes they can become Carver Middle school "legends."
Meanwhile, Raven and Chelsea land a segment to promote their business on Chris Spring-Lake's new reality makeover show.
To celebrate the Raven's Home marathon, Just Jared Jr spoke to cast members Navia Robinson, Jason Maybaum, Issac Ryan Brown, and Sky Katz about which episodes are their favorite, and why fans will enjoy the finale episode.
Tune in to Raven's Home marathon starting at 4pm ET on Sunday (May 3) and catch the season finale at 8pm ET on Disney Channel!
Click inside for our mini interview with the cast of Raven's Home…
Just Jared Jr: Which episode in the marathon is your favorite and why?
Issac Ryan Brown: "My favorite episode in the Raven's Home marathon has to be 'What About Your Friends?' In this episode, Booker's so-called friends try to pressure him to do something that he doesn't want to do. I like that this episode teaches a few life-long lessons. Booker chooses to do something right over his fake friends and I hope other kids will stand up for themselves and do what's right. Another episode I really loved was 'Foreign Identity.' It gave Booker a chance to be the big brother and try to help his twin sister Nia win the boy of her dreams! It also allowed them to work closely together and I really enjoy working with Navia."
Navia Robinson: "My favorite episode of the marathon is 'What About Your Friends,' as it promotes an important message that teenagers really need to hear and can benefit from, considering how powerful a force peer pressure can be."
Sky Katz: "I really liked the episode showing the negative side of teen vaping. I was happy to participate in an episode that could hopefully have a positive effect on young people's health."
Jason Maybaum: "My favorite episodes in the marathon are 'Hoop Streams' and 'The Story So-Fa' because in these episodes Levi, Booker, Tess, and Navia get in sticky situations and work together to make things right. I think the episodes where all four of the kids work together on things are the funniest.
JJJ: Why do you think fans will enjoy the season finale "Level Up"?
IRB: "I really think fans will enjoy the 'Level Up' episode because they will see a friendly competition of being the best you can be, as well as making lasting memories with your friends."
NR: "The fans will enjoy 'Level Up' because the episode features many amazing guest stars, who add to the community within Raven's Home and provide new character dynamics for the audience."
SK: "It's such a relatable episode because kids often want to make sure they make an impact and are remembered for doing something great after they move on from a school. Tess made an impact through her basketball team, Nia made a difference through her activism and they come together to help Booker make his impact."
JM: "Fans will enjoy the episode 'Level Up' because it has all of the hilarious things you expect from a Raven's Home episode and the end leaves you wondering what will happen next to everyone and excited for season four, which I can tell you is a must-see for all fans of Raven's Home."
Like Just Jared Jr. on FB