Wed, 13 May 2020 at 7:53 pm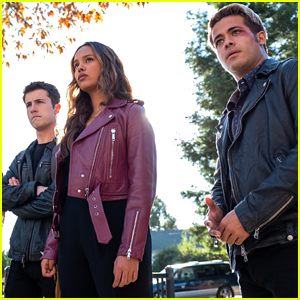 A handful of brand new images from the final season of 13 Reasons Why were just released!
The pioneering Netflix series will be back in June and showrunner Brian Yorkey is talking about the show's final mystery with Entertainment Weekly.
"Our North Star has always been that the inciting incident of the whole series is Hannah's death and the tapes she leaves behind, and so we want to follow that to its logical conclusion and I think and hope that's what we do in season 4," Brian shared, continuing on about what will lead this final season.
"At the end of season 3, [we saw] that Winston can alibi Monty and is upset at the way Monty was used by these kids to, in his mind, get away with murder, so Winston is certainly going to be a significant factor in season 4," he said. "He is going to be trying to find out what really happened and in his own way get some sort of justice and closure for Monty, who he only had brief encounters with but we'll find meant a lot to him."
Brian added that more of the mystery will involve "other people in Evergreen County, such as Sheriff Diaz, who will certainly become aware of the guns that get dredged up by the fishermen and that will make him curious and he will follow that trail."
"There are a number of other people who are wondering if the story that got told is really the true story, so they will be putting pressure on our kids and there will be the threat that the secret will come out.
If you missed the first look at the final season, watch it here!
Like Just Jared Jr. on FB