Wed, 13 May 2020 at 7:25 pm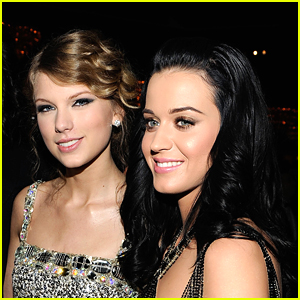 Some fans are putting things together…
Are Taylor Swift and Katy Perry about to drop a collaboration this week?!
We all know Taylor is the queen of dropping hints and fans are putting together all the puzzle pieces.
Last week, Katy announced her single "Daisies" was coming out on Friday (May 15), AND Taylor also posted a new photo that same day, while wearing a sweater with daisies on it.
Also to note about both of their posts, they were both posted on the two year anniversary that Katy sent an olive branch to Taylor to end their feud back in 2018.
Another thing to note about Taylor's post is that she used four emojis, including two snake emojis, referencing her Reputation album. Track four on Reputation is "Don't Blame Me" which has the lyric, "I once was poison ivy but now I'm your daisy." The snake emojis are also similar to the two "S" letters in Katy's "Daisies" artwork.
That same day, the American Idol Twitter account tweeted, "We can't wait to play this like 1,989 times in a row." 1989, also known as Taylor's fifth album's title, and the year she was born.
When asked about the theory, Katy told Extra, "Well, you're just gonna have to tune in to 'Idol' next week if all rumors are true or false."
HEAR. ME. OUT.
Taylor is wearing a daisy shirt
Katy referenced yntcd two days ago
Taylor posted 1 hour and 25 minutes after Katy… THATS 85 MINUTES….
Those numbers are coming back.. what if we get a big announcement tomorrow maybe a collab on Katy's #DAISIES 👀 pic.twitter.com/szp1XWf0Io

— 𝐌𝐚𝐣𝐝𝗼𝐮𝐥𝐢𝐧𝐞🦋 (@rainycabridee) May 7, 2020
AND THEIR FUED WAS OVER 05.08.2018 SO THIS IS THEIR SECOND ANNIVERSARY 👀

— 𝐌𝐚𝐣𝐝𝗼𝐮𝐥𝐢𝐧𝐞🦋 (@rainycabridee) May 7, 2020
🚨 COLLAB ALERT 🚨
this literally CANNOT be a coincidence. i know we've all been 🤡s in the past but cmon now, look at this. either way we will stream kp5 with all our effort❤️ #Daisies #KatyIsComing lets hope taylor swift x katy perry is real 🌼 pic.twitter.com/iAzaw8b8TB

— average katheryn hudson stan 🌼 (@averagekatheryn) May 7, 2020
Like Just Jared Jr. on FB