Fri, 22 May 2020 at 7:45 pm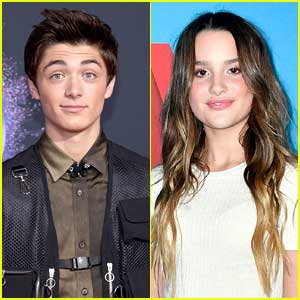 Asher Angel is finally opening up about his break up with Annie LeBlanc.
The 15-year-old Group Chat with Annie and Jayden co-host announced the news last week that she and the 17-year-old actor/singer had split.
In a new interview, Asher opened up about how he's doing.
"It's been, it's been a hard week. It's been very hard. It's been hard for me, it's been hard for my family," Asher said. "You know, quarantine has been tough. I haven't seen her in 75 days, I mean, that's not easy on any kind of relationship. And we're young, we're teenagers, so we were seeing each other every other day and all of a sudden, that's just taken away from us. That was super hard."
"I'm heartbroken. I love her so much. She was… she's my everything. She is my rock, she means the world to me. I was trying to be optimistic about the whole thing, and think that she would maybe come back, or she just needed some time and space," Asher added. "That's my kind of approach to it because it just didn't seem real. But as soon as it was announced, that's just where I was just, ugh, I was just devastated. I finally knew that it was real, that it was actually happening.
"I think the most important thing is I just want her heart to be happy. That's the biggest thing. As long as her heart's happy, I'm happy. I'm always going to be here for her and her family, and I believe she knows that," he continued.
Asher was also asked about his Instagram caption and if his mom was behind it, like Annie had alluded to.
"Not at all [true]. I posted it," he responded. "The main reason why… You know, this whole time I was… I don't know, I just didn't think I should, I wanted to post something because I wanted to share how I was feeling and I found this quote that really resonated with me, and it was exactly the way I felt. I was like, 'Should I post it, should I not?' I just didn't know what to do, I couldn't think straight. I just decided to post it, thinking that she would appreciate it and it was just a tribute, saying, 'I love you and for making me so happy.'"
"I feel like I wanted to make a post, just to show tribute. I just wanted to make a post saying, 'I love you, I'm always here for you, and you're a big part of my life.' That's the only thing that I was trying to come across and say," he added. "It wasn't to throw shade or anything like that, to cause any kind of issues. Not at all. I love them, they're amazing. My family loves them. That's just not the kind of people that we are."
"First and foremost, I think I'm just gonna say let's take the time to love one another and support each other, and we don't need the negativity and hate. Let's just support each other," Asher said in a message to fans on both sides.
Like Just Jared Jr. on FB