Fri, 12 June 2020 at 1:36 pm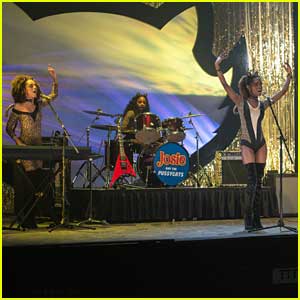 The Pussycats might be coming back to Riverdale!
During a live chat with Asha Bromfield, Lili Reinhart revealed that showrunner Roberto Aguirre-Sacasa expressed interest in bringing the girls – played by Asha, Hayley Law, and Ashleigh Murray – back to the show.
"I talked to Roberto the other day and he said that he felt like he wanted to bring the Pussycats back to the show to do right by their characters. I think people are learning and growing and we have to give them a chance to make the adjustments. We can say, 'This isn't working,' or, 'This is wrong. This needs to be fixed,'" Lili said, via J-14. "Now it's like, OK, let's give people a chance to learn and make those changes. Roberto wants Riverdale to be spearheading a movement, a TV show that takes what's happening in the world and does something about it. I'm really proud of him."
During the chat, Asha also shared that black people are much more than just side characters.
"I'm so much more, and Black people are so much more, than support systems," she said. "It becomes toxic messaging when we are perpetuating this idea that there's any less validity to my own life than yours, that my sole purpose in this world is to support someone who looks like you. It's so much bigger than Riverdale. It's a bigger conversation about how we are humanizing Black people on screen in all capacities."
Like Just Jared Jr. on FB