Sat, 25 July 2020 at 5:31 pm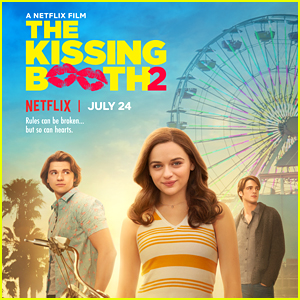 The Kissing Booth 2 has been out for just one day and it's of course already a big hit!
At the time of this post, the sequel is the number one title in the US on Netflix, AND The Kissing Booth is even the number nine movie in the US.
If you've seen the movie, you already know that the surprising ending was kind of left on a bit of a cliffhanger, leaving open the possibility of another movie.
Netflix has yet to announce if a third movie is happening, but fans are yearning for more, and so are we!!
Stars of the movie, Joey King, Joel Courtney, Jacob Elordi and newbies Taylor Zakhar Perez and Maisie Richardson-Sellers, are all dishing on the possibility of a third film, but not all of them are exactly on board…
"Well, me and the cast have been talking and we want that so bad and we're kind of relying on the fans to help us out," Joey previously said. "They loved the first one so much and they're the reason that we got a sequel. So if they love this one and they make it known to the world and to Netflix, our fingers are crossed that Netflix will give us a third movie because that's what we want really badly."
"So many of these things end with cliffhangers, you kind of leave it up for interpretation," Jacob told ET about TKB2 being the end. "Myself personally, I don't know what I'm doing after this phone call, so [I'm] not sure how to answer that… I have no idea."
Click inside to see what the others say about a third movie…
"I might be a little biased, but I actually think that our second movie is better than our first. I just love it. I think it's so good," Joel told ET. "The fans gave us so much support in the first movie and got us a second one. Who knows? It might happen again."
"If there was a third film, I would think that he's doing his band. She's doing her thing," Taylor dished to Teen Vogue. "Maybe outside the walls of the high school, things are a little less dramatic… maybe over the summer they reconnect and tell each other how they feel."
"I felt like it was the perfect ending to the beginning of a third film," Taylor also said. "I have no idea if Netflix will be doing one, but… we need justice for Marco."
Maisie shared that she is definitely down for a third movie, saying, "If there is a number three, I would be there in a heartbeat. It definitely ends on a note where Chloe would be there."
"I wanna see [Chloe] and Elle. I wanna see that relationship develop," she added. "I want to see how she interacts with Marco. That would be so fun."
Like Just Jared Jr. on FB