Fri, 16 October 2020 at 5:12 pm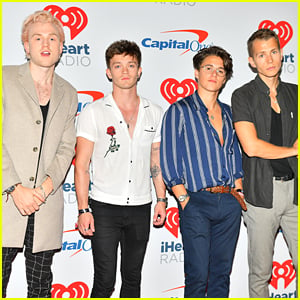 The Vamps are finally back with their brand new album Cherry Blossom!
The guys – Connor Ball, Tristan Evans, James McVey and Bradley Simpson – debuted their first album in over two years on Friday (October 16).
The Vamps' last release was the Day Edition of their Night & Day album, which came out in July 2018.
"We had a lot of time to soul search, but also as musicians we had time to go and listen to a variety of different albums and just enjoy music," James said of the album. "We ended scrapping all of the first batch of songs and starting again."
"When you're on tour it's very reactive and you're in the moment, so you're not necessarily really deep-diving into your relationships as a band," Brad said. "We got to a point where we needed to stop so that we knew what we wanted to do next. Every crossroads that we'd come to –the end of a tour or the end of an album cycle –it was like 'what are we going to do next?'"
"Fans want more context to music now, they want more subtext to it," Bradley continued. "You're doing them a disservice not to evolve. To not be authentic. The idea is to bring them on a journey with us, as they grow up too. We're writing about stuff we haven't necessarily touched on before."
"We'd be lying if we said we didn't want it to go out into the world and be received positively," he added about their hopes for the album. "But ultimately, we love it so much, and that feeling of self-fulfillment is so exciting. These are songs that really touch on parts of our lives."
Like Just Jared Jr. on FB