Fri, 23 October 2020 at 5:04 pm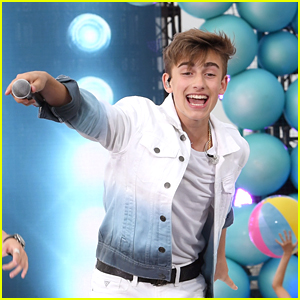 Johnny Orlando debuted his brand new EP It's Never Really Over today (October 23)!
The 17-year-old has been working on the body of work for a year and a half, and it's finally out for the world to hear.
"after a year & a half of working on this project it's finally yours. i hope these songs can make u feel something & help u as much as they have helped me. these are the most genuine songs i've ever made….new era starts now #INRO ☁️," Johnny shared on Instagram.
"This project is a culmination of the person I have become in the last year, but as I have learned, far from the person I will be in a year's time," he said in a note to fans. "With this project I want my fans to feel the sense of security that I did not. I want them to know that everybody experiences the same terrifying reality of being thrown into the real world."
"There is a point in your life where you finally have to say goodbye to your childhood and your innocence," he continued. "This project is my farewell."
To celebrate Johnny's new release, JJJ asked him to share 10 fun facts about himself. While he's been a very popular social and music star for years, hopefully you learn something new. Check them out below!
Click inside to see Johnny Orlando's 10 Fun Facts…
1. I just bought my first car.
2. I love chocolate milk.
3. I have two dogs named Bentley & Leo.
4. I want to visit Tokyo so badly!
5. I'm in my last year of high school.
6. I play the guitar & piano.
7. I'm learning how to produce music!
8. I eat eggs… almost every day for breakfast.
9. I drink a Tim Hortons Iced cappuccino every day.
10. My EP It's Never Really Over is out today :)
Like Just Jared Jr. on FB