Mon, 15 February 2021 at 2:08 pm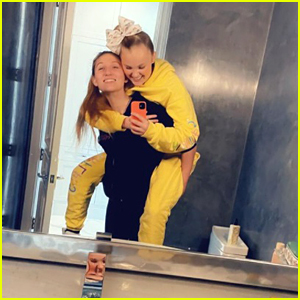 JoJo Siwa celebrated her first Valentine's Day with girlfriend Kylie!
The 17-year-old took to Instagram to share a sweet message for her girl, and even showed off the gift she received.
"It's my first valentines dayyyy!!🥰 No one in the world makes me as happy as this girl does. I'm so thankful to have fallen in love with the most perfect person ever who makes me smile 24/7. I love you more than you'll ever know!❤️," JoJo captioned a post on her feed.
On her story, she showed off a hoodie that Kylie got her, which reads, "Warning I am taken, don't flirt with me. It's for you own safety."
"This. My protective girlfriendddd. Best Valentines Day gift. I love you an insane ammount," JoJo wrote across the video.
Kylie also posted on her Instagram story, writing, "getting to spend Valentine's Day w the BEST human on earth… taking ft photos is my new favorite hobby :) … i love you i love you i love you"
Earlier this month, JoJo said that she had a girlfriend, and later, she revealed who it was on their one month anniversary.
Like Just Jared Jr. on FB