Mon, 29 March 2021 at 8:03 pm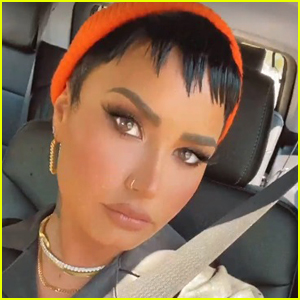 Demi Lovato is opening up about her sexuality in a new interview.
The 28-year-old entertainer was on The Joe Rogan Experience podcast and talked about many things, including her sexuality.
Demi has previously identified as bisexual, and just recently said she was too fluid to put a label on herself.
"In this moment I want to adopt [children] for sure," she said about wanting kids. "I also don't know if I'm going to end up with a guy, so I cant really see myself even getting pregnant.
"I don't know. I'm so fluid now, and a part of the reason why I am so fluid is because I was super closeted off," she added.
Host Joe Rogan then asked about sexual fluidity, and said "What do they call that? 'Pansexual?'"
"Yeah, pansexual," Demi said. "[I like] anything, really."
"I'm part of the alphabet mafia and proud," she said, referring to the LGBTQIA+ community. "Why can't we just say queer, y'all? Nah, I'm just kidding."
If you don't know, pansexual means that those who identify as such are attracted to all gender identities, or are attracted to people regardless of gender. Learn more and see other celebs who identify as pansexual on Glaad.com!
You can watch video clips of Demi's interview with Joe Rogan on YouTube here, and you can listen to the entire podcast on Spotify.
Another celeb opened up earlier this year about identifying as pansexual…
If you missed it, Demi is set to make an appearance at the upcoming GLAAD awards!
Like Just Jared Jr. on FB