Fri, 30 April 2021 at 12:10 am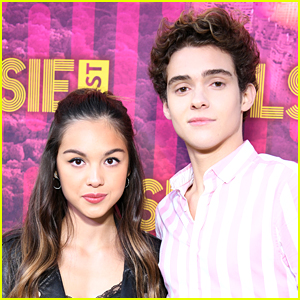 SPOILER ALERT! DO NOT READ THIS POST IF YOU DON'T WANT HIGH SCHOOL MUSICAL SEASON 2 SPOILERS!!!
The songwriters behind an amazing duet between Joshua Bassett and Olivia Rodrigo in season two of High School Musical: The Musical: The Series are explaining how they made it happen.
Click inside to learn about the song…
The duet, "Even When/The Best Part," is from an upcoming Valentine's Day episode where [SPOILER ALERT] Nini and Ricky, who are now long distance, try to go visit each other at the same time. After they both miss each other, they go to call each other to share their songs they wrote for one another.
They both end up having to leave voicemails for each other, and the surprise duet, comprised of two different songs begins.
"'Even When/The Best Part' is a truly special duet," Joshua told Billboard. "I played guitar when we filmed it, and sang along to Olivia's vocals in my ear while she shot her side separately! I'm stoked to see how it all came together and really think people are gonna love it! Hands down: one of my favorites this season!"
"This song originated in the writers' room when our writing producer Zach Dodes said, 'Wouldn't it be cool if Ricky and Nini kept missing each other on Valentine's Day, and so they each call each other at midnight and play a song they wrote for the other one — and through the magic of showbiz, the songs blended together?'" showrunner and creator Tim Federle told the site. "Olivia and Josh are such talented singer-actors, and the songwriters struck the perfect note in writing this 'accidental duet.'"
The songwriters who worked out all the details on the track, are explaining how they brought the two together.
"We definitely knew we had some kind of mental gymnastics to do to get ourselves to a place where we could write two songs that happened to work at the same time and really work on the structure of each to make them flow like a unit," Michelle Zarlenga shared.
"We all went into the the writing session knowing that we were writing one song that had to contain two songs inside of it. I don't think we knew exactly what the songs were going to be. But when we finally pushed play, and we heard both songs playing at the same time, put together the way that we had envisioned it, I think we were all pretty satisfied," Mitch Allan, who has written many songs for Disney productions, said.
"We were very intentional in the writing process. We took it part by part, writing the verse for one song and for another pretty much at the same time," Chantry Johnson added. "It wasn't like writing two separate songs and just kind of seeing if we got lucky. It was very intentional. If we write the verse in this way for the first one, we can write the verse this way for the other one, and how can we allow them to have space and overlap in ways that feel satisfying and make the songs make sense combined into one song?"
Mitch added, "I think the No. 1 concern that we had was making sure that each character had their own story. So there's a lot of inner-monologue that we kind of suppose is going on for him and for her. And so we're looking at it like, 'What's he thinking? He's gonna write it from this point of view. And what's she thinking? She's gonna write it from this point of view.' Because of the similarities between them — obviously it's Valentine's Day and they're not together — that's the commonality that wraps the storylines together in the song, but I still think you get a sense of who each character is in their own song. And then it works together to create a third song with both of them."
We can't wait to hear more of the season two music!!
Find out more about the song at Billboard.com!

Nini & Ricky – 'Even When/The Best Part'
Like Just Jared Jr. on FB