Thu, 29 April 2021 at 8:32 pm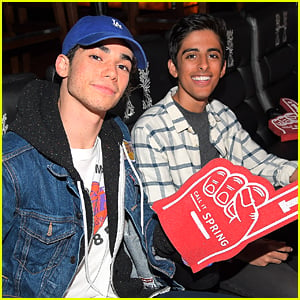 Karan Brar is opening up about the death of his best friend Cameron Boyce.
The 22-year-old actor talked about grief, loss and even child acting with Jennette McCurdy on the latest episode of her podcast Empty Inside.
Towards the end of the episode, she asked him how losing Cameron, who passed away suddenly in 2019, has changed him.
Click inside to see what Karan said…
"I think losing Cameron shifted everything in my life on it's axis, and that was incredibly destabilizing. In certain areas of my life, it was… things were shifted into a better situation or into a situation where I could see it a bit more clearly and I could make better eye contact with it," he shared.
"In certain situations, it made it more uncomfortable and more painful, but I think what it made me is someone who is getting better at taking care of himself," Karan continued. "That's what my friends have always wanted for me, is to give myself the time and the space that I need, especially with the things that I struggle with, and I know for Cameron, as well as my other best friend Sophie [Reynolds], they're always the ones having to try to take care of me because I'm not taking care of myself."
"I think that's one thing I'm trying to take away losing Cameron, is to take care of myself the way that he would want me to take care of myself," he added.
Like Just Jared Jr. on FB