Fri, 11 June 2021 at 4:11 pm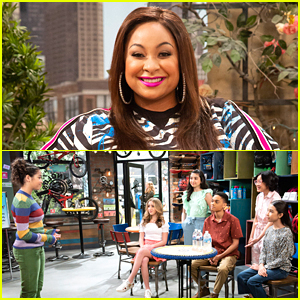 This week's all new Sydney to the Max comes with a very important message about microaggressions.
The new episode imparts invaluable lessons on the impact of identity-based microaggressions, the importance of people feeling a sense of belonging, and the power in standing up for yourself.
JJJ spoke to the cast – Ruth Righi, Ava Kolker, Jackson Dollinger, Christian J Simon and guest star Julia Garcia – about the importance of why the episode matters to the show's young viewers.
Raven's Home star Raven Symone directed the episode, and she told us why it was important for her to direct it.
"Because I'm a black female, period. Ultimately, you always can pick from those directors, the ones that we see all the time, all the time, all the time," Raven shared. "But I think when you have a story like this, you have to choose someone that has gone through these diverse situations. And I love being able to tell stories through sitcoms."
In "Do The Write Thing," Sydney suspects her teacher, Ms. Anderson, has assigned everyone in her class historical figures to write about based on their race. When Sydney talks to her classmates, they confirm her suspicions and explain the discomfort they felt when they received their assignments. The students agree to confront Ms. Anderson about their concerns and elect Sydney as their spokesperson.
In the 90s, Vice Principal Virmani arranges for a local reporter to interview Leo about his work as founder and president of the school's computer club, the same club he encouraged his buddy Max and his cousin Alisha to join. Leo provides a great interview and highlights of his work and is excited until the story runs, incorrectly featuring a picture of Max with the title of Club President.
Tune in to Sydney to the Max TONIGHT (June 11) at 8:25pm ET/PT on Disney Channel!
Check out an exclusive clip from the episode below, and keep reading to see what the cast hope that viewers take away from this episode…
"I really hope that people (kids, parents, or really anyone) can use this episode as an educational and validating reference for dealing with and defining microaggressions," Ruth Righi said. "I want them to feel confident in that they can stand up for themselves when they feel hurt and simply know that they are not alone in experiencing the impact of microaggressions."
Ava Kolker hopes viewers "will take away to be sensitive to how their behaviors may affect others and to always be willing to listen, learn and be inclusive, kind and loving to all."
"The main thing I hope viewers take away from this episode is to think before they speak. I feel like people need to realize the impact of their words and that what could be just another conversation for you could be really hurtful to someone else," Jackson Dollinger told JJJ.
Christian J Simon told us, "I hope kids will be able to identify a microaggression and the effect it can have on a person. I also hope this inspires them to use their voice and not be afraid to stand up for themselves. Lastly, I hope they understand the power of people coming together to make a difference."
"It's important that we share our stories and experiences. Shining a light on micro-aggressions helps us to know we aren't alone," guest star Julia Garcia shares. "I hope people learn and grow from this episode. We have opened the door for this difficult conversation so that it can bring healing, which I believe will lead to the positive change we want to see in the world."
Like Just Jared Jr. on FB