Fri, 18 June 2021 at 5:05 pm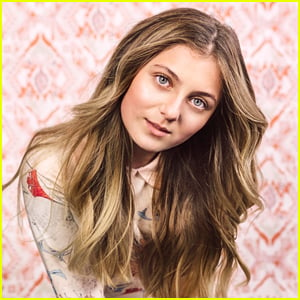 Emma Berman is starring in the brand new Disney and Pixar movie Luca!
The 12-year-old's role as the voice of Giulia Marcovaldo is actually her feature film debut.
Emma stars alongside Jacob Tremblay and Jack Dylan Grazer in the animated film, which just premiered on Disney+ TODAY (June 18).
Luca is set in a beautiful seaside town on the Italian Riviera and is a coming-of-age story about one young boy experiencing an unforgettable summer filled with gelato, pasta and endless scooter rides. Luca shares these adventures with his newfound best friend, Alberto, but all the fun is threatened by a deeply-held secret: they are sea monsters from another world just below the water's surface. Check out the trailer!
Emma's Guilia becomes a friend to Luca and Alberto, especially when they agree to team up with her in a local race she desperately wants to win. Find out more about the characters here!
As Luca premieres, we got to know more about the newcomer actress with an exclusive 10 Fun Facts. Check them out below:
1. I was born and raised in San Francisco, CA. I will be a teenager on August 1st, my zodiac sign is Leo.
2. I love Go-Karting! I have been doing it since I was 7. Going to the track and racing with my brother Mark makes me very happy! He is 8 years older than me and he is also a Leo.
3. I am passionate about theater. I was a part of 7 professional theater productions in the Bay Area since 2017. One of the favorite theater productions I was a part of is called "Once," staged by 42nd street Moon in San Francisco, where I played Ivonka, and was the only child in the cast. It won the Best Musical of the year TBA award in 2019. I hope to continue doing theater when places open again to be a part of more great productions!
4. When I was 9 years old, I voiced 6 toys for Leapfrog. I also voiced a few toys for Playmates Toys and Spinmaster.
5. Favorite place to visit in the USA is New York City. I am a huge Broadway fan and I have a playbill collection at home from the musicals I have seen. I dream of moving to the East Coast for college. I want to study graphic design and animation, and work as the storyboard artist for Pixar when I grow up.
6. My favorite drink is Taro Boba tea; my favorite ice cream flavor is green tea, favorite food is sushi.
7. I have a cat that I named Peppa after Peppa Pig. Peppa is 8-months-old, she is a ragdoll.
8. Drawing and painting are some of my favorite hobbies. My favorite color is sage green, and I love doing abstract art with acrylic paints.
9. The Hobbit and Harry Potter series are my favorite books. I also love all books by Roald Dahl, I have re-read "Charlie and the Chocolate Factory" three times.
10. My brother and I are the first-born Americans in my family. Both parents immigrated from Russia in their teens. I speak Russian at home with my grandma who lives with us. I also have a grandfather, two uncles and 4 cousins living in Moscow.
Like Just Jared Jr. on FB