Wed, 07 July 2021 at 4:42 pm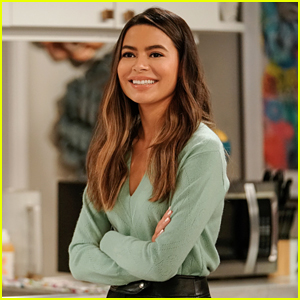 An all new episode of iCarly is just hours away and it will feature another character from the original series!
The series' official Instagram account shared a new teaser from this week's episode and mashed it together with a scene from the OG.
Click inside to read more…
Carly, Freddie and Sam's school principal, Principal Franklin (Tim Russ) is making an appearance, and he'll be at Carly's birthday party!
In "iM Cursed," it's Carly's birthday and she's trying to liven it up this year, while also trying to avoid it being cursed like it has in the past.
This will be two episodes in a row that an OG iCarly character has appeared on the show, following Nevel Papperman's return last week. (We may even see more of him!)
So far, we've had Freddie's mom, Nora Dershlitt, Nevel and now Principal Franklin, but they're not the only ones that will be making appearances this season…
Nathan Kress has confirmed that Doug Brochu will also reprise his role of Duke (apparently in this week's episode!), and Drew Roy will return as Griffin!
"In the episode where we have Doug Brochu, who plays Duke in several episodes of the original, we have Principal Franklin, played by Tim Russ. We also have Drew Roy, who played Griffin, Carly's 'bad boy' boyfriend. He's back. Get excited," he previously revealed to The Wrap.
"Some things, you would expect. Nevel is Nevel. But other things you wouldn't quite expect. People find themselves in an interesting place in today's world, where you have to do what you have to do to survive," Nathan added. "The Griffin story — it's pretty funny. I'm excited for people to see that one."
If you missed it, see what Nathan shared, and revealed, as they wrapped filming season one…
Like Just Jared Jr. on FB