Fri, 23 July 2021 at 5:37 pm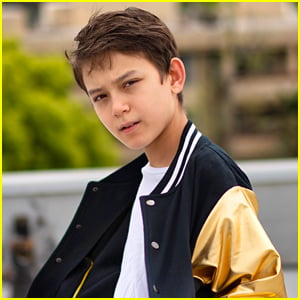 We are getting to know young star Mystic Inscho!
The teen actor stars in The Mysterious Benedict Society as Reynie Muldoon, one of the gifted orphans.
In the Disney+ series, after winning a scholarship competition, four gifted orphans are recruited by the peculiar Mr. Benedict for a dangerous mission to save the world from a global crisis known as The Emergency.
Reynie, Sticky, Kate, and Constance must infiltrate the mysterious L.I.V.E. Institute to discover the truth behind the crisis. When the headmaster, the sophisticated Dr. Curtain appears to be behind this worldwide panic, the kids of "The Mysterious Benedict Society" must devise a plan to defeat him.
Click inside to read more…
This is Mystic's first big TV project. There are only a couple of more episodes left, so be sure to catch up on The Mysterious Benedict Society on Disney+ and tune for the next couple weeks for the final episodes of season one!
Before the season comes to an end though, we wanted fans to get to know more about Mystic. Check out 10 Fun Facts about him below, which includes his Broadway past:
1. I have a baby pet crested gecko that I got in Canada while filming.
2. I enjoy doing martial arts and a variety of different sports such as playing basketball, soccer, swimming, tumbling, and dancing.
3. At nine years old, I played the lead role of Zack the guitarist on the School of Rock Broadway Tour.
4. I write my own songs and I am currently learning music production.
5. I sing and rap, as well as play guitar, piano, drums, and ukulele.
6. My parents say that I danced before I could walk, and I still love to dance! My favorite style is Hip-Hop.
7. I am half Asian and I can fluently speak and read Mandarin. I am also learning Spanish, Korean and Japanese.
8. I am very good at reading and memorizing lines fast.
9. I really like Pokémon cards, as well as reading fiction, fantasy, and sci-fi books.
10. I like watching anime and reading manhwa.
Like Just Jared Jr. on FB